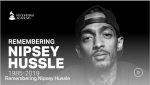 Former president Barack Obama was among those who paid tribute to the late rapper and community activist, Nipsey Hussle, during his memorial service in Los Angeles yesterday. In a letter read on his behalf by the late lyricist's business partner Karen Civil, Obama praised Hussle for his lasting legacy. Obama said he had never met Hussle but heard his music through his daughters.
Hussle was gunned down outside his store, The Marathon Clothing, on March 31. A 29-year-old man, Eric Holder, has been charged and entered a not-guilty plea on charges of murder, attempted murder, and possession of a firearm by a felon.
Nipsey Hussle was born Ermias Joseph Asghedom to an American mother, Angelique Smith, and an Eritrean father, Dawit Asghedom. They were both at the funeral where the mother called on Nipsey's ancestors to "keep him company on his journey." The vehicle carrying his coffin was draped with the Eritrean flag.
The following is the full text of Obama's letter read by Karen Civil:
"I've never met Nipsey, but I've heard his music through my daughters. After his passing, I had the chance to learn more about his transformation and his community work. While most folks look at the Crenshaw neighborhood where he grew up and only see gangs, bullets and despair, Nipsey saw potential. He saw hope. He saw a community that, even through its flaws, taught him to always keep going.
"His choice to invest in that community rather than to ignore it — to build a skills training center, a coworking space in Crenshaw to lift up the Eritrean-American community — he set an example for young people to follow and is a legacy worthy of celebration. I hope his memory inspires more good work in Crenshaw and communities like it."
Others speaking at the memorial service that was attended by over 21,000 people at the Staples Center were Nation of Islam leader Louis Farrakhan, Stevie Wonder and fellow rapper Snoop Dogg. Dogg called Hussle a "kind spirit" and "peace advocate." "This man got a letter from Barack Obama, man," Dogg said, as he saluted Hussle's coffin. Farrakhan on his part called Hussle a "prophetic soul" and praised his valiant efforts to bring together rival gangs, the Crips and the Bloods. Hussle was a former Crips.
R & B singer Stevie Wonder when he spoke said "I'm very happy that in his short life he was able to motivate people, and I hope that it motivates you to say, 'Enough of people being killed by guns and violence.'"
Wonder then granted Nipsey Hussle his wish by playing a song at his funeral. He sang one of Nipsey's favorite Stevie Wonder songs "Rocket Love."
In Nipsey Hussle's 2016 track "Ocean Views," he rapped "Hundred-thousand in my coffin, that's just light dough play a Stevie Wonder song, smoke some flight, bro."

Born and raised in Kenya's coastal city of Mombasa, Tom is the Founder, Editor-in-Chief and Publisher of Mshale which has been reporting on the news and culture of African immigrants in the United States since 1995. He has a BA in Business from Metro State University and a Public Leadership Credential from Harvard's Kennedy School of Government. He was the original host of Talking Drum, the signature current affairs show on the African Broadcasting Network (ABN-America), which was available nationwide in the United States via the Dish Network satellite service. On the show, he interviewed Nobel laureates such as 2004 Nobel Peace prize winner, Professor Wangari Maathai, the first woman from Africa to win the peace prize and heads of states. Tom has served and chaired various boards including Global Minnesota (formerly Minnesota International Center), the sixth largest World Affairs Council in the United States. He has previously served as the first Black President of the Board of Directors at Books for Africa. He also serves on the boards of New Vision Foundation and the Minnesota Multicultural Media Consortium. He has previously served two terms on the board of the United Nations Association. An avid runner, he retired from running full marathons after turning 50 and now only focuses on training for half marathons.





(No Ratings Yet)


Loading...