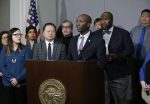 ST. PAUL – Hundreds of Minnesotans packed the state capitol Wednesday to call attention to the legislative priorities of the black community.
The rally called African Heritage Day on the Hill is organized annually by the Council for Minnesotans of African Heritage which this year saw an unprecedented participation by the African immigrant community.
The rally heard from all elected state black lawmakers, Governor Tim Walz as well as the only two elected black mayors in the metro, Melvin Carter of Saint Paul and Mike Elliott of Brooklyn Center, as they put forth a slate of legislative priorities that they said would improve the quality of life of their constituencies, especially in areas of education and health where disparities between whites and blacks persist.
In advance of the rally, the Council for Minnesotans of African Heritage had released a set of priorities that speakers reinforced during the rally. Among those priorities are changes to allow those who have served their prison time to get their voting rights back, an expansion of the definition of race in the Human Rights Act to include natural hair (known as the CROWN Act). Also highlighted are efforts to decrease the use of cash bail so as to limit the number of black people who get stuck in jail for extended periods due to the inability to raise the bail.
The bi-cameral Minnesota Legislature has six elected black legislators known as the United Black Legislative Caucus and includes Sen. Jeff Hayden, Sen. Bobby Joe Champion, Rep. Rena Moran, Rep. Hodan Hassan, Rep. Mohamud Noor, Rep. Ruth Richardson. Rep. Mohamud Noor is the only black elected male in the Minnesota House of Representatives.
"We stand together across race, culture, and experience, united in the goal of making Minnesota a better, more equitable place to live," said Rep. Moran. "Our state is facing significant disparities that we cannot ignore. Our agenda supports transformational change in social, racial, and economic justice."
Governor Walz reiterated his support for the black legislative agenda "The time for admiring the problems of disparities is over," he said. Adding that he will not shy away from the accountability that comes with addressing the state's disparities. Chief among those concerns are home ownership rates disparities where for white families the rate is 76%, and just 23% for Black families. When it comes to unemployment, it is 3% for whites but 8% for blacks. Another startling statistic shared at the rally was on infant mortality in Minnesota where for every 1,000 live births, 3 white children die but that number shoots to more than 9 for black children.
Attorney General Keith Ellison also highlighted his efforts along with Public Safety Commissioner John Harrington to address police brutality in the state in a holistic manner. "We brought members of the law enforcement community so we can jointly come up with solutions," said Ellison. Blacks in Minnesota are 3.6 times more likely to be subject to use of force by police and 2.5 times more likely to be shot and killed by police than are whites, rally attendees were told.
Liberian-born Mayor Mike Elliott of Brooklyn Center, that city's first black mayor and the first African born elected mayor in the metro spoke of his efforts to increase economic vitality in his city.
"We are creating space so that we can ensure that our people have a seat at the table, " said Elliott.
Speaking last at the rally were members of the Minnesota Safe Streets (MSS) that seeks to end violence in the Twin Cities neighborhoods. They were led on stage by community activist Al Flowers who said "I know we are last on the bus but we are fighting."
MSS speakers were critical of legislators leaving the rally before hearing "the concerns of our community."

Born and raised in Kenya's coastal city of Mombasa, Tom is the Founder, Editor-in-Chief and Publisher of Mshale which has been reporting on the news and culture of African immigrants in the United States since 1995. He has a BA in Business from Metro State University and a Public Leadership Credential from Harvard's Kennedy School of Government. He was the original host of Talking Drum, the signature current affairs show on the African Broadcasting Network (ABN-America), which was available nationwide in the United States via the Dish Network satellite service. On the show, he interviewed Nobel laureates such as 2004 Nobel Peace prize winner, Professor Wangari Maathai, the first woman from Africa to win the peace prize and heads of states. Tom has served and chaired various boards including Global Minnesota (formerly Minnesota International Center), the sixth largest World Affairs Council in the United States. He has previously served as the first Black President of the Board of Directors at Books for Africa. He also serves on the boards of New Vision Foundation and the Minnesota Multicultural Media Consortium. He has previously served two terms on the board of the United Nations Association. An avid runner, he retired from running full marathons after turning 50 and now only focuses on training for half marathons.





(1 votes, average: 5.00 out of 5)


Loading...