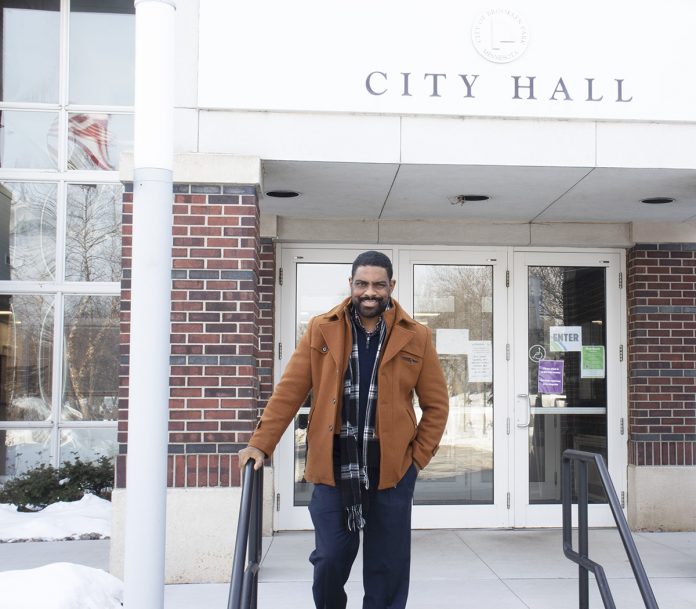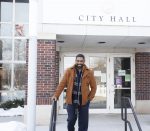 After winning a seat on the Hennepin County Board of Commissioners, former Brooklyn Park mayor Jeff Lunde resigned his position on Jan. 3, sparking a special election to fill the seat.
The special election will be held on April 13 if a maximum of two candidates file to run. If more than two candidates file, the special election will be held on Aug. 10, with April 13 serving as the primary election day to narrow the field to two.
The candidate filing period opened on Feb. 2 and will end on Feb. 16.
The first one to announce his candidacy was Hollies Winston, a self-employed small business consultant and advocate. "I want to create a Brooklyn Park that works for all of us," he said when announcing his bid one week after Lunde won the county seat.
This is his second attempt to be mayor having run unsuccessfully against Lunde in 2018 when he received 45.68% of the vote against Lunde's 52.50%.
Winston, 42, was born in Chicago but raised in the Twin Cities where his family moved to when he was 10. After the move to the Twin Cities, his father who is a lawyer went on to become vice president at Northern States Power Company, the predecessor to present day Xcel Energy, the power company that serves most of Hennepin county. His mother spent most of her career as well in corporate America. They have both since retired to Arizona.
Winston graduated from the International School of Minnesota High School and then Northwestern University for his bachelors degree, before receiving an MBA from the Carlson School of Management at the University of Minnesota. He lives in Brooklyn Park's Maplebrook neighborhood with his wife Latrice and their three children.
Winston admits to struggling as a youngster after moving to the Twin Cities at a young age with trying to adjust to his new surroundings "but a strong support system from my family back then is what made me succeed in life," he says.
That strong family support structure is the foundation for his candidacy, he says, and guides him on how he approaches public policy.
Elections for the mayor and city council in Brooklyn Park, as in most cities, are nonpartisan but Winston is the DFL endorsed candidate and has secured big name endorsements including the area's US Representative, Dean Phillips, as well as the speaker of the Minnesota House of Representatives Melissa Hortman, who lives in the city.
In an interview with Mshale on his candidacy outside city hall, Winston outlined his top priorities for Brooklyn Park if elected.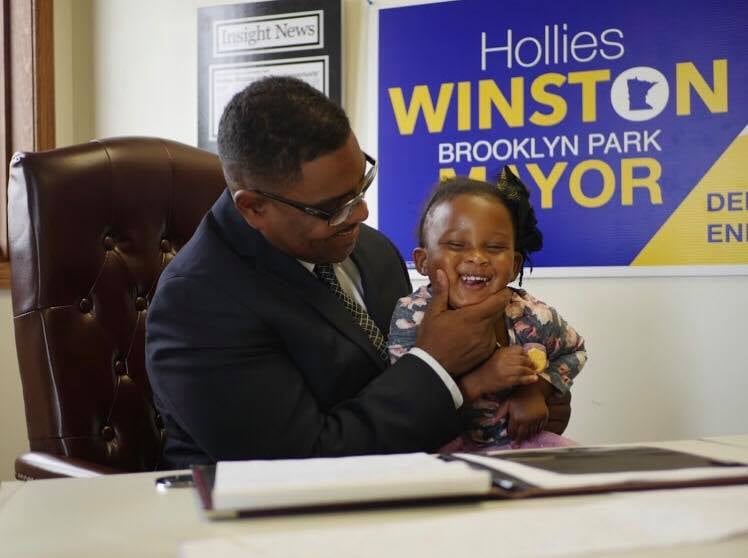 Winston said he's running because he believes "everyone should have the same equal opportunities," adding that while the city has made strides in providing access, opportunities are not extended equally to those who choose to make Brooklyn Park home.
But Winston's top issue is the covid-9 pandemic which is superseding other issues at the moment, he says: "we have to get our arms around the pandemic, as many of our residents are frontline workers whether they be in the healthcare field or in businesses where they cannot work from home."
To address the pandemic, Winston says there is a role for the city in terms of getting out information to residents about the resources available to them, so that "people know their options."
Winston also listed crime as a priority, saying there is an uptick in crime that is concerning to all residents. He attributes the increase partly to the pandemic but also to a lack of opportunities for the youth. "People want to feel safe," he said.
Asked about his view on the relations between the city's police and residents, Winston said that "it depends who you talk to. People of color if you ask them, they would say it could be better. For other communities they would say it is great."
Winston does not believe police and public relations in the city are strained to the level they are in big cities like Minneapolis, but that police in Brooklyn Park could do better. "We do need to move those relations to where we are not just okay but to excellent," he said. He wants to see the department engaging the public more, "so they are not meeting you for the first time when there is an emergency."
Another priority is the rebalancing of the city's revenue source. Winston serves on the city's budget advisory commission and his term ends on April. He says serving on the commission has given him a better understanding and appreciation of the intricacies of the city budget.
He however believes the city's residents, especially homeowners, are bearing the brunt of providing more revenue to the city. The way to address the imbalance is to attract more businesses to the city, both small and big. "That way as we grow as a city we have a better mix to be able to support our budget," said Winston.
This article has  been updated to reflect the correct college Mr. Winston received his bachelors degree from. It is Northwestern University and not Northwestern College as earlier stated.

Born and raised in Kenya's coastal city of Mombasa, Tom is the Founder, Editor-in-Chief and Publisher of Mshale which has been reporting on the news and culture of African immigrants in the United States since 1995. He has a BA in Business from Metro State University and a Public Leadership Credential from Harvard's Kennedy School of Government. He was the original host of Talking Drum, the signature current affairs show on the African Broadcasting Network (ABN-America), which was available nationwide in the United States via the Dish Network satellite service. On the show, he interviewed Nobel laureates such as 2004 Nobel Peace prize winner, Professor Wangari Maathai, the first woman from Africa to win the peace prize and heads of states. Tom has served and chaired various boards including Global Minnesota (formerly Minnesota International Center), the sixth largest World Affairs Council in the United States. He has previously served as the first Black President of the Board of Directors at Books for Africa. He also serves on the boards of New Vision Foundation and the Minnesota Multicultural Media Consortium. He has previously served two terms on the board of the United Nations Association. An avid runner, he retired from running full marathons after turning 50 and now only focuses on training for half marathons.





(1 votes, average: 5.00 out of 5)


Loading...