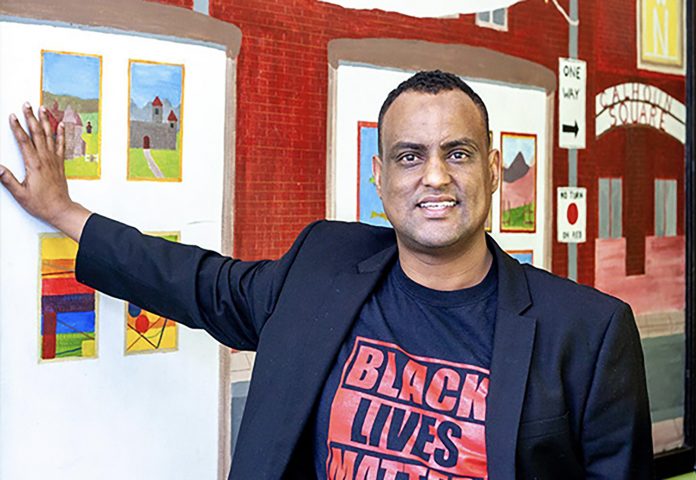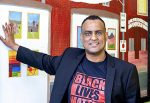 For Yussuf Haji, a seat on the Minneapolis City Council means an opportunity to make real change. He is running to represent Ward 9. Alondra Cano, who currently represents the ward is not seeking reelection.
Haji and his wife Anisa run an online organic cosmetics business in addition to Anisa's day job as a program manager at a local nonprofit. To make ends meet, Yussuf said he has had to supplement the family income by driving for Uber part-time.
It is his part-time gig as an Uber driver that has given him the opportunity to hear firsthand the many ways in which the city appears to sideline its residents, many of whom are members of marginalized communities.
Passengers sharing their experiences with him about the city, combined with his longtime activism speaking up against racism and Islamophobia, contributed to his decision to run for office.
"Minnesota is still Minnesota, and the minority communities are still facing a host of issues, which I have been fighting against over the last ten years," Haji said.
Yussuf, a Somali immigrant from Kenya, has called Minnesota home for the last 22 years with ten of those years spent in Saint Cloud where he attended college.
He received his bachelor's in media and mass communication from St. Cloud State University and a master's in arts and leadership from Augsburg University.
His entry into activism was sparked by a Paul Wellstone rally he attended in Minneapolis when the late senator was running for reelection.
"Paul inspired me and his words stuck with me as I joined in the causes of my fellow Black, brown and indigenous people and others who were striving for acceptance, recognition and opportunity," Haji said.  "I used to listen to his speeches before he died in a plane crash in 2002."
Yussuf's priorities include public safety with an emphasis on police reform and what he calls "community involved public safety" where the community is an active participant in the police reform movement.
"Racist and brutal police officers, who break the law, violate the public trust and oppress people must be held accountable," said Haji.
Affordable housing is one of his other priorities. He says there is a housing crisis in Minneapolis where 44 percent of the city's residents are 'cost-burdened', meaning they spend more than 30 percent of their income on housing.
According to Haji, having a secure job and feeling safe in your city are "basic human needs" and that the city's elected officials should provide an environment where that can be achieved.
He points to the vulnerability that small businesses in Ward 9 have been exposed to as regards crime and security after the unrest that followed the killing of George Floyd by Minneapolis police.
Haji says businesses in the area need short-term grants from the city to improve the security of their buildings, terming the need as "urgent."
He says he understands the challenges of the gig economy and said Uber, Lyft and gig workers such as DoorDash need city parking permits. Yussuf believes these are changes that the city is well positioned to implement and should.
"It is at city hall where the real change happens," said Haji.
Haji and his wife Anisa have four children.
The city of Minneapolis' municipal election is scheduled to take place on Nov. 2, 2021, with early voting expected to begin on Sept. 27.
Yussuf Haji's website is at hajiforward9.com.

Mshale Contributor Mohamud Farah Dulyadeyn is the host of Wacyi Show for Somali Cable TV. He is an alum of Metropolitan State University, where he majored in journalism.





(2 votes, average: 5.00 out of 5)


Loading...