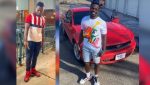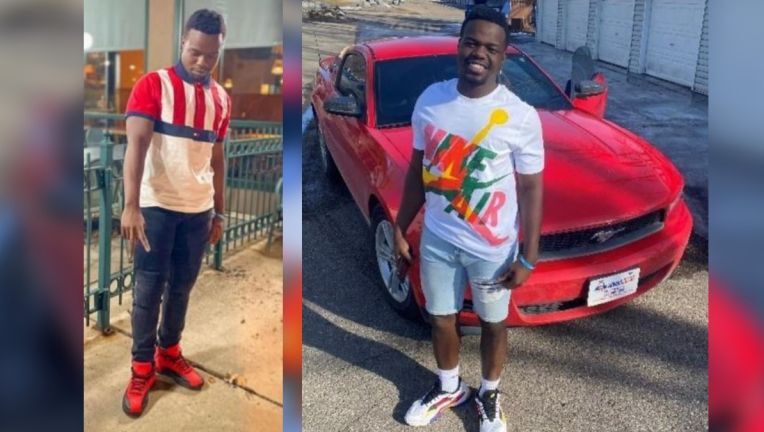 This is a developing story and will be updated.
Kenyans in Minnesota have organized a search for Keegan Oyugi who has been missing since 4:30am Saturday, June 12. Oyugi had sent a text to his younger brother that he was headed home from the Prior Lake/Savage area to their home in St. Bonifacius. He never made it home.
Oyugi's parents, Richard and Mirriam Onkunya, from Wichita, said during a Friday Zoom meeting organized by Minnesota Kenyans Association (MKA) to discuss the search on Saturday, that police have told them that their son's cell phone was last pinged at 4:00pm on Saturday, twelve hours from when he texted his brother.
The location of the ping is near a Storage Mart.
MKA, which is the consortium of Kenyan associations in Minnesota, with consulting assistance from Minnesota United, a volunteer search and rescue organization, is reaching out to the community and asking for volunteers to help in the search on Saturday at 9:00am.
Minnesota United, which joined the Zoom call to give advice on how to proceed with the search, suggested a search radius of five miles from the Storage Mart. Volunteers will meet at the address below and receive direction from designated team search leaders, Lillian Otieno and Huldah Momanyi.
Keegan Oyugi Search
When: Saturday, June 19
Time: 9:00am CST
Location: 1900 Stoughton Ave., Chaska, MN 55318
Contacts: Lillian Otieno @ 651-276-9559 and Huldah Momanyi @ 612-703-5729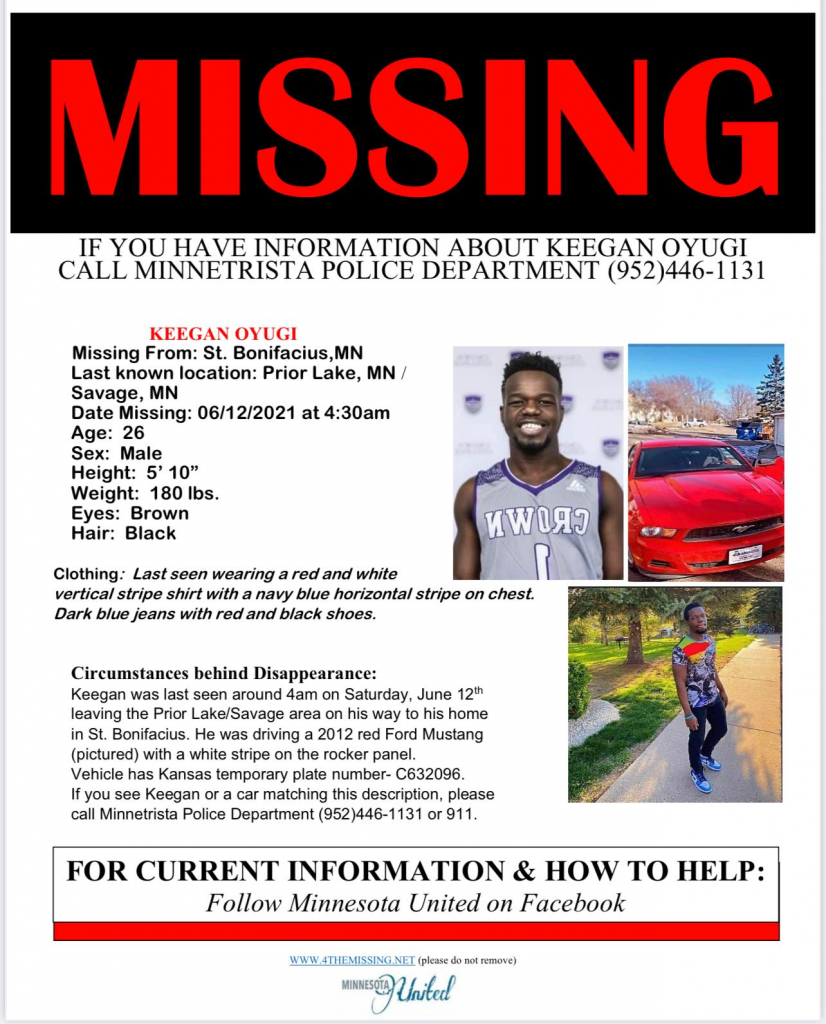 Oyugi graduated from Wichita Southeast High School and went on to play basketball at Neosho County Community College in Kansas. He then moved to Minnesota in 2017 to enroll at Crown College where he also played in the basketball team. He graduated from Crown in 2019.
He was driving a 2012 red Ford Mustang with a white strip on the rocket panel. The car has a Kansas temporary plate with number: C632096.
Anyone with information should call the Minnetrista Police Department at (952)446-1131 or call 911.

Born and raised in Kenya's coastal city of Mombasa, Tom is the Founder, President and Publisher of Mshale. As the founder, he did a lot of the reporting during the humble beginnings of the newspaper. While he still does the occasional reporting, he now concentrates on the publishing side of the news operation. Tom was also the original host of Talking Drum, the signature current affairs show on the African Broadcasting Network (ABN-America), which was available nationwide in the United States via the Dishnetwork satellite service. On the show, he interviewed Nobel laureates such as 2004 Nobel Peace prize winner, Professor Wangari Maathai, the first woman from Africa to win the peace prize and heads of states such as the president of The Gambia, Yahya Jammeh at State House, Banjul. Tom has served and chaired various boards including Global Minnesota (formerly Minnesota International Center), the sixth largest World Affairs Council in the United States. He has previously served as President of the Board of Directors of Books for Africa, the largest shipper of donated books to Africa. He also serves on the boards of New Vision Foundation and the Minnesota Multicultural Media Consortium. Tom also served two terms on the board of the United Nations Association. He retired from running full marathons after turning 50 and now only focuses on half marathons.





(3 votes, average: 4.67 out of 5)


Loading...