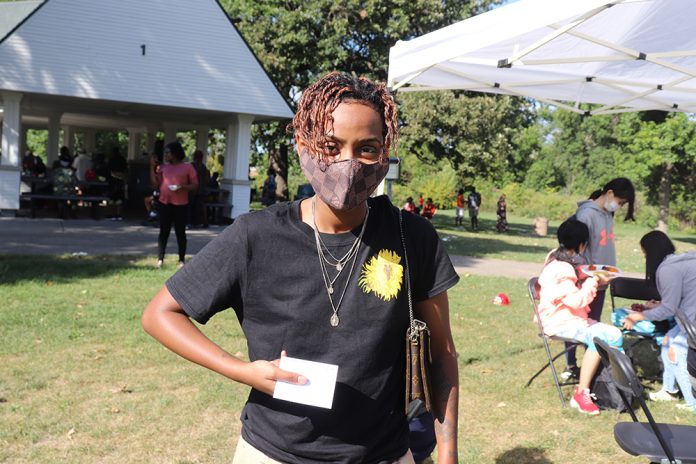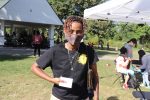 MAPLEWOOD, Minn. – Lemi Z'ere, a 22-year-old second generation Eritrean and TikTok influencer, put off getting vaccinated against COVID-19 for months because she was unsure of the science.
Despite the growing research evidence showing the vaccines are safe and effective, she needed to see for herself that there would be no adverse side effects, and that her friends wouldn't suffer after receiving the jab.
"A lot of my friends got the vaccine now and they told me they are doing okay. I just had concerns because the vaccine was made so quickly. But my friends made the difference," Z'ere said.
But it was the recent birth of her nephew, and the desire to visit her freely, that finally convinced Z'ere – who works at a local high school as a behavioral specialist – to get inoculated.
Z'ere was among a dozen people Mshale witnessed receive their first dose during a pop-up clinic hosted by the Minnesota Institute for Nigerian Development (MIND), during their annual picnic this past Saturday at Keller Regional Park in Maplewood.
Odam Medical Group administered the vaccines.
"School is also about to begin and after last school year it will be great to get back to some normalcy," Z'ere said after getting the jab. "If most of us that are staff get vaccinated, we can avoid going virtual hopefully."
A 14-year-old Hmong American called April said she had been thinking of getting vaccinated but was not sure on how to get it. Her motivation was to avoid virtual school. She accompanied her mother who had been told of the Nigerian picnic event which was not far from their house.
"Virtual school was so boring last year, am hoping my friends get vaccinated so we don't get covid" said April as she was under observation after getting inoculated.
Z'ere is among the thousands across the state who have rushed to get vaccinated in recent weeks amid the recent surge in COVID cases, brought on by the delta variant. According to the Minnesota Department of Health, the seven-day average for the first doses administered was 2,675 one month ago. As of last week, Minnesota was averaging 4,955 first doses daily.
The annual Nigerian picnic was held one day before Governor Walz's $100 vaccine incentive program was set to expire which could also have driven interest in the vaccine at the festive event. Afrobeat sounds rent the air as folks received their vaccines. The aroma of jollof rice attracted a constant stream of people to the bandshell while a few feet away others danced to Afrobeat as others played a game of bean bag toss.
But local African leaders say they still encounter resistance from some African immigrants about getting the shot, the difference being their skepticism is driven more by uncertainty than being antivaxxers.
"In Africa we are used to taking many vaccines so they are not new, sometimes I get surprised when our people say they don't want to take the vaccine" said Dr. Richard Oni, clinical director at Progressive Individual Resources (PIR), a social and behavioral health social-service agency.
Dr. Oni who is also former president of MIND says hesitancy and misinformation are among the driving forces behind most African immigrants' resistance to the vaccine, pointing to myths about them causing impotence and a host of other unproven side effects.
"So, our job as professionals is to demystify some of these myths and reminding them that we have taken vaccines for many other ailments in Africa, we tell them the technology is not new," said Dr. Oni.
"We have found that a lot of our people have unique challenges and sometimes very busy work schedules that don't lend themselves well to scheduling a vaccine appointment," said Dr. Robert Larbi-Odam, the Odam Medical Group medical director. "It could also be language barriers, so at our practice we work to ensure these challenges do not stop them from getting it (vaccine)."
His wife Abena Larbi-Odam, is the operations director at Odam, and revels in tackling the unique challenges her husband was describing.
"We don't talk to them as if they are dumb, we take time to explain because they are so many myths going around your head will spin," Mrs. Larbi-Odam said. "We make it very easy for them, if its transportation issues we will come close to where they are."
Odam operates two clinics in the metro, one at the Abbott Northwestern Hospital campus in south Minneapolis and another in north Minneapolis.
However, it is the alternate strategies that her clinic has come up with to deal with vaccine access issues in the African community that seems to animate her the most. They launched what she calls the Vaccination Strike Team, a group of Odam staff that is mobile and goes to "where the people are" so they don't have to deal with language or transportation issues which are common.
Alternate strategies such as its vaccine strike team have allowed the Ghanaian-American couple's Odam Medical Group to administer more than 34,000 COVID-19 shots in the past year.
"Someone should not miss out on a vaccine if they want it just because they don't have transportation," said Mrs. Larbi-Odam.

Born and raised in Kenya's coastal city of Mombasa, Tom is the Founder, Editor-in-Chief and Publisher of Mshale which has been reporting on the news and culture of African immigrants in the United States since 1995. He has a BA in Business from Metro State University and a Public Leadership Credential from Harvard's Kennedy School of Government. He was the original host of Talking Drum, the signature current affairs show on the African Broadcasting Network (ABN-America), which was available nationwide in the United States via the Dish Network satellite service. On the show, he interviewed Nobel laureates such as 2004 Nobel Peace prize winner, Professor Wangari Maathai, the first woman from Africa to win the peace prize and heads of states. Tom has served and chaired various boards including Global Minnesota (formerly Minnesota International Center), the sixth largest World Affairs Council in the United States. He has previously served as the first Black President of the Board of Directors at Books for Africa. He also serves on the boards of New Vision Foundation and the Minnesota Multicultural Media Consortium. He has previously served two terms on the board of the United Nations Association. An avid runner, he retired from running full marathons after turning 50 and now only focuses on training for half marathons.





(1 votes, average: 5.00 out of 5)


Loading...