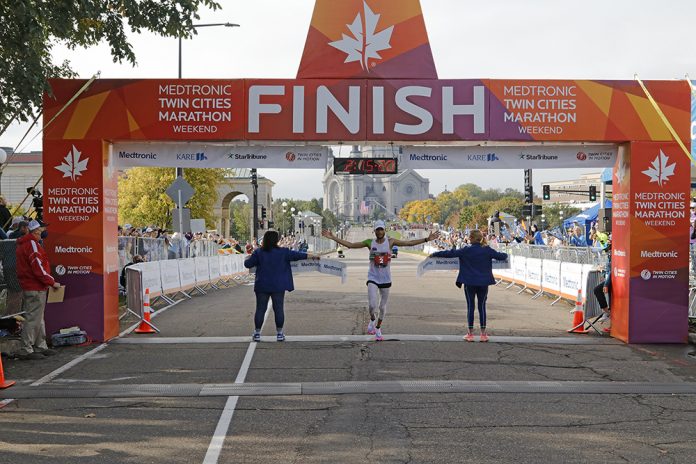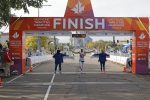 Mohamed Hrezi of Philadelphia won the Twin Cities Marathon men's title with a time of 2 hours, 15 minutes, 22 seconds while Naomi Fulton from Hartland, Wisconsin took home the women's title with a time of 2 hours, 45 minutes, 57 seconds.
Last year's race was canceled due to the pandemic and race officials said that 3,192 runners completed Sunday's 26.2 mile. 3,192 is less than half that completed in 2019. As part of COVID-19 protocols, race officials had capped entries at 4,500.
There was also no prize money in this year's race which limited the number of elite runners like the Kenyans who have dominated it in the last 10 years, winning seven of the last 10 with the other three being taken by runners from the United States.
Libyan-born Hrezi and the women's winner Fulton are not full-time professional runners.
Among those who ran the full marathon was Minneapolis Mayor Jacob Frey who finished with a time of 2:53:22. The starting line of the marathon was at US Bank Stadium in downtown Minneapolis and finished at the State Capitol in Saint Paul.
10 Mile Race
In the 10 Mile race, Danny Docherty of St. Paul won the men's title in 49 minutes, 19 seconds while Rachel Drake of Portland, Oregon won the women's 10-Mile title in 56 minutes, 41 seconds.
6,521 runners (including this writer) completed the 10-mile race.

Born and raised in Kenya's coastal city of Mombasa, Tom is the Founder, Editor-in-Chief and Publisher of Mshale which has been reporting on the news and culture of African immigrants in the United States since 1995. He has a BA in Business from Metro State University and a Public Leadership Credential from Harvard's Kennedy School of Government. He was the original host of Talking Drum, the signature current affairs show on the African Broadcasting Network (ABN-America), which was available nationwide in the United States via the Dish Network satellite service. On the show, he interviewed Nobel laureates such as 2004 Nobel Peace prize winner, Professor Wangari Maathai, the first woman from Africa to win the peace prize and heads of states. Tom has served and chaired various boards including Global Minnesota (formerly Minnesota International Center), the sixth largest World Affairs Council in the United States. He has previously served as the first Black President of the Board of Directors at Books for Africa. He also serves on the boards of New Vision Foundation and the Minnesota Multicultural Media Consortium. He has previously served two terms on the board of the United Nations Association. An avid runner, he retired from running full marathons after turning 50 and now only focuses on training for half marathons.





(No Ratings Yet)


Loading...