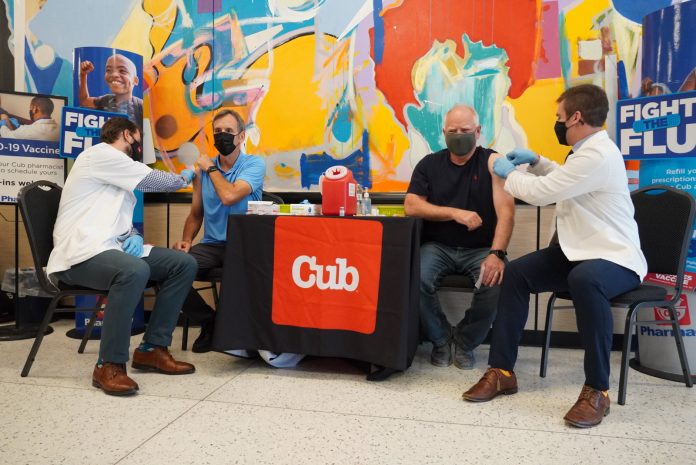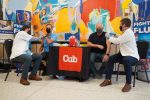 Governor Tim Walz of Minnesota and former Gov. Tim Pawlenty were joined by the state's Health Commissioner Jan Malcolm on Tuesday, Oct. 26 in North Minneapolis to receive their booster shots of the COIVID-19 vaccine.
The trio received the Johnson & Johnson vaccine in March and the CDC recently said all patients who received the Johnson & Johnson at least two months ago, regardless of age, health history or other factors are now eligible to receive a booster dose of another J & J vaccine, Moderna or Pfizer.
"Minnesotans understand that following the science and ensuring they're best protected against COVID-19 is how we will curb the spread of this deadly virus," said Governor Walz. "Today I got my booster shot to maximize my level of protection and I encourage all eligible Minnesotans to do the same. You can get your Pfizer, Moderna, or Johnson & Johnson booster dose from a pharmacy, clinic, or provider near you."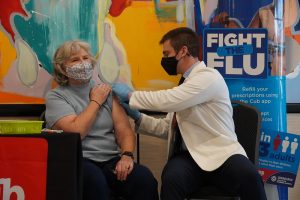 The two governors took the booster shots as the governor's office announced that Minnesota is now third in the country for percentage of fully vaccinated adults with COVID-19 booster doses. According to the Centers for Disease Control and Prevention, Minnesota has administered booster doses to 10.8% of fully vaccinated adults, behind only Alaska and Vermont.
How Minnesotans can get their free shot:
Use the state's Vaccine Locator Map to find a vaccine provider near you.
Check for vaccine appointments at Vaccines.gov, where you can search for appointments by vaccine type (e.g., Pfizer).
Contact your primary health care provider or a local pharmacy.
Walk in to one of Minnesota's COVID-19 Community Vaccination sites .

Minnesota Department of Health COVID-19 Public Hotline

1-833-431-2053
Mon.-Fri., 9 a.m. – 7 p.m. & Sat., 10 a.m. – 6 p.m.
How Minnesotans can get a COVID-19 test:
Find a testing option near you through the state's Find Testing Locations map: Find Testing Locations.





(No Ratings Yet)


Loading...