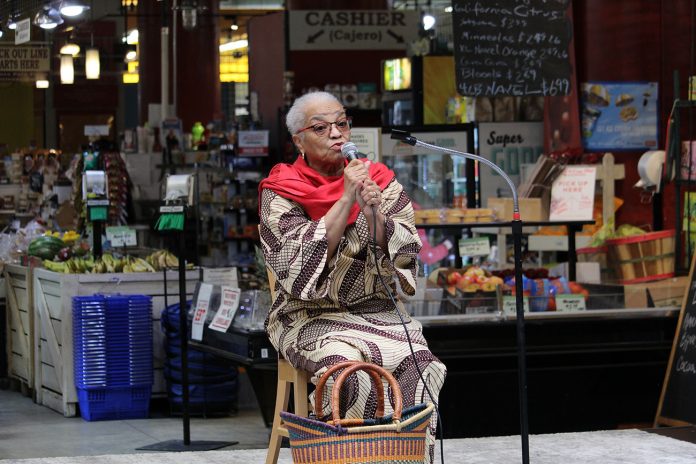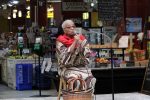 Minneapolis's Midtown Global Market kicked off its Black History Month celebrations Saturday with art and stories about the African experience.
One of the most anticipated guests of the day was Beverly Cottman, who is famously known as Auntie Beverly. Cottman is a professional storyteller who delivers engaging stories from the African diaspora by leveraging traditional elements of oration, such as movement, expressions, and vocal dynamics.
"Historically, virtually every society has partaken in storytelling," Cottman said. "Today, I have the privilege of sharing the stories of our ancestors."
Cottman said she grew up in a time when there was no Black History Month. Her generation didn't have advanced technology, so the Black history people know today – the sit-ins, the protests and the marches for voting rights – was all recorded orally, she said.
"So, in a way, the art of storytelling has served as a way for us to preserve what would have otherwise been forgotten," she said.
In her performance, Beverly's story list included a rendition of Sam and the Tigers, and a Senegalese folktale.
Cottman, who started her storytelling career 20 years ago, said he has always considered herself a creative person. As she gained more confidence, she quit her job as a high school biology teacher and started telling stories for a living. She has never regretted it. She has traveled abroad and shared stories with children, adults, and senior citizens. She has also been featured in conferences, schools, events, libraries, and literacy development programs, she said.
"Many of my stories are Afro-centric," she said. "And when we think about Africa as the cradle of civilization, it makes sense to preserve that history."
Cottman said a lot of the folktales, fables, and moral stories she tells date back to the 16th and 17th centuries, and possibly even earlier, she said. The stories were passed down through oral tradition, and were used to establish rules and norms in African societies.
The event also displayed the works of local artists like Juan T. Parker, whose art features African animals and settings in pen and ink, acrylic paint, color pastel, oil pastel and pencil. He said he uses his art to depict what he calls "the colors of Africa."
"Africa is so rich in culture, beauty, and nature," he said.
Parker also owns an art gallery at Midtown Market, where he has been selling his work for more than three years. Parker said began his journey as an artist at the age of five. He recalled his mother making crafts using strings. Throughout the years, as Parker began sharing his creativity with the community, his passion continued to motivate him in some of his toughest times.
"Being an artist helped me get through being an outcast as a teenager," he said. "Having this creative outlet also helped me when I was struggling with congestive heart failure in 2015. I ended up having to undergo a major operation, but my art helped me survive."
The event also featured music by Heart and Soul Drum Academy, a St. Paul-based school specializing in hand-drum classes for children between the ages of three and 17. The organization aspires to "connect the community through the art of drumming." In addition to educating the youth about the creative and communicative aspect of the hand-drum, the academy travels and shares cultural experiences with the greater Twin Cities.
The group's performance featured several songs and an improvised act at the end. Lars T. McCritty, a featured drummer, said the group has thrived by staying rooted in West African values.
"In Liberia, we have a village mentality," he said. "In everything that we do, we try to maintain this spirit of togetherness."
The school's founder, Baba Jesse, shared the idea behind the creation of the music school. He said it focuses on giving at-risk kids from low-income in the Rondo neighborhood opportunities to study music.
"I wanted to make a difference in these kids' lives," Jesse said. "Before drumming, many of them lacked an avenue for fulfillment and personal growth. Music gives them kids an opportunity to develop skills they otherwise would not have. They are building motivation, respect, and self-esteem."
Midtown Global Market is a shopping and cultural center on Lake Street in Minneapolis. It was founded in May of 2006, when local entrepreneurs of color partnered with the Neighborhood Development Center and rented space in what used to be an abandoned Sears building. Many of the business owners expressed a desire for the new cultural hub. Today, the market hosts more than 25 businesses representing the diverse cultures of the neighborhood.
In addition to offering global goods from different vendors year-round, Midtown is also known for holding a variety of cultural events each year.
"Midtown has so much diversity in culture," said Parker, the art shopkeeper. "It's the perfect spot for any artist of color."

Panashe is a general assignments reporter.





(1 votes, average: 5.00 out of 5)


Loading...