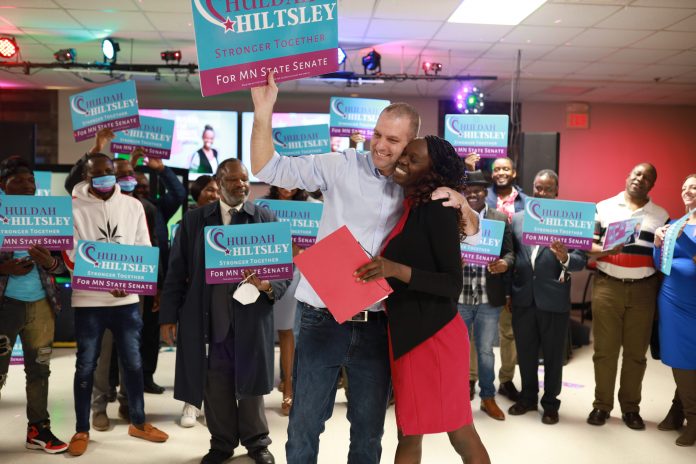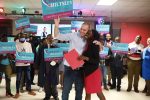 Members of the Twin Cities African immigrant community and friends of Huldah Momanyi-Hiltsley gathered in Brooklyn Park on Sunday to help raise funds for her senatorial campaign.
Momanyi-Hiltsley is running to replace Sen. Chris Eaton, who will not seek re-election to represent District 38 in Minnesota State Senate. The gathering, which took place at Oro Lounge, was her first public fundraising event since she announced her candidacy in 2021.
Geoffrey "Chui" Gichana, a long-time resident of Minnesota, flew in from Kenya, where he himself is running for the senate in his country of birth's general elections, which are scheduled for August. He said he felt compelled to make the long trip because of Momanyi-Hiltsley's importance to the community.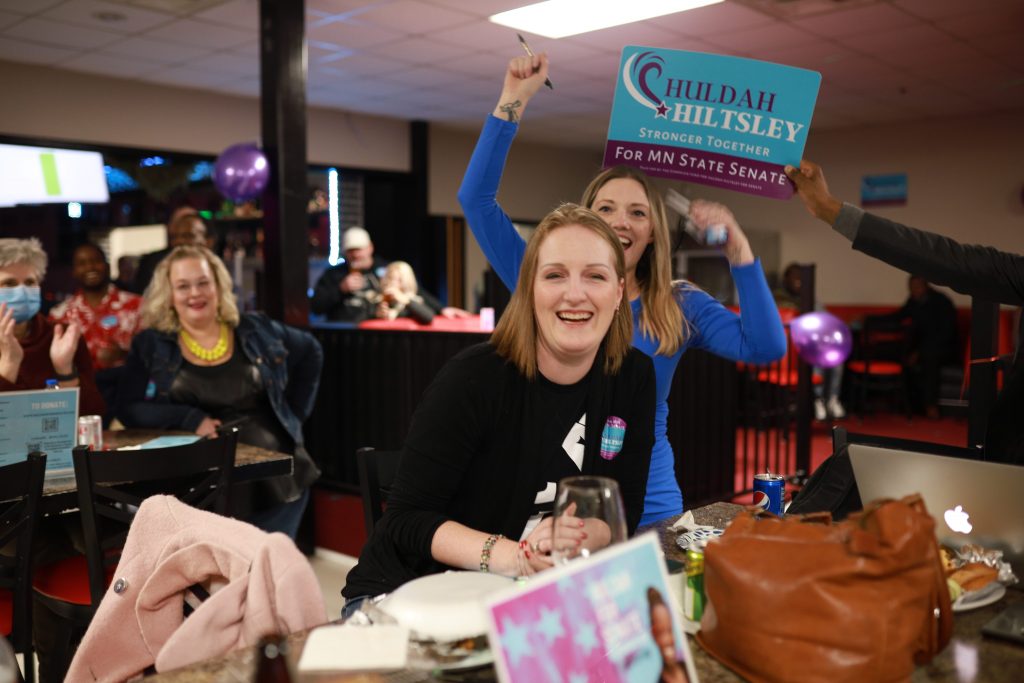 "I know we are all here to give money, but I want to emphasize the importance of your influence as well," said Jeffrey Chui, a long-time friend of hers. "We need to carry this energy into the community. If we can all a tell a neighbor or a friend, we can make this possible."
If elected, Momanyi-Hiltsley, who was born in Kenya, could become the first Black woman and African immigrant to join the higher house of the Minnesota legislature. Another African immigrant, 24-year-old Somali-born Zaynab Mohamed, is running to represent District 63.
Momanyi-Hiltsley said it was never her plan to become a politician, but her growing passion for public service drove her to pursue a leadership position that would allow her to advocate for her community at the state level.
"Building communities is a part of my DNA," she said. "And for the longest time, our community has not been OK. Our voices have not been heard. But to address the root cause of these issues, I couldn't continue being on the sidelines. That is why I am running to create sustainable change."
Momanyi-Hiltsley recalled a moment that sparked her desire to run for the senate. She was at an event where the current Sen. Chris Eaton was endorsing a candidate when she noticed the lack of diversity in the room.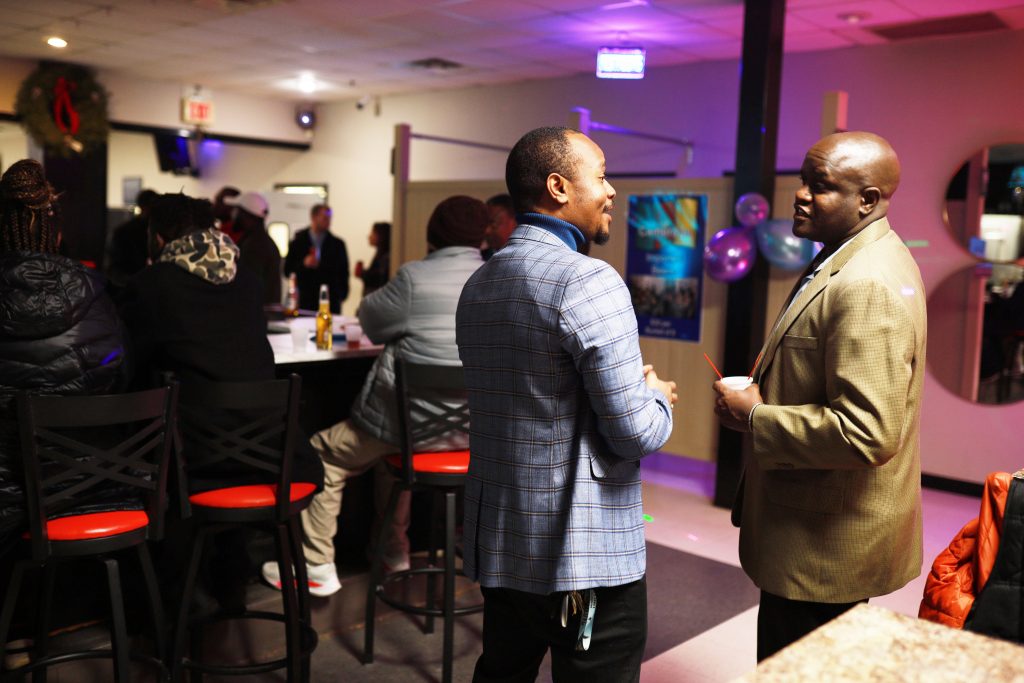 "The whole time was I was looking around and thinking- where's the rest of us," she said. "What options does our community have? And so, I decided to put my name in the ring as well."
She also touched on recent events that she said had devastating effects on her community: the coronavirus pandemic, and the murder of Daunte Wright, the unarmed Black man who was killed by a Brooklyn Center police officer.
"The tragic murder of Daunte Wright happened in my precinct," she said. "That's personal. That hits way too close to home. Reformative policies are needed now. When good people run, lives are changed for the better."
Rena Moran, a six-term member of the Minnesota House of Representatives and chair of the powerful House Ways and Means Committee, spoke about the importance of having political representation that reflects the diversity of constituencies. She recounted her experience being the only Black person in legislature when she was elected in 2010. Today, there are 10 Black lawmakers, and they've united to form the Black Legislative Caucus.
"We united because when you look at the discrimination and biases in this country, they don't separate us by nation of origin," said Moran. "We came together as Black legislators to represent the voice of our people."
Moran said she hoped Momanyi-Hiltsley's campaign would promote a united Black community that would together combat systemic injustices in education, healthcare, and the criminal justice system.
"In order for us to make strides forward, we need her at the capital," said Moran.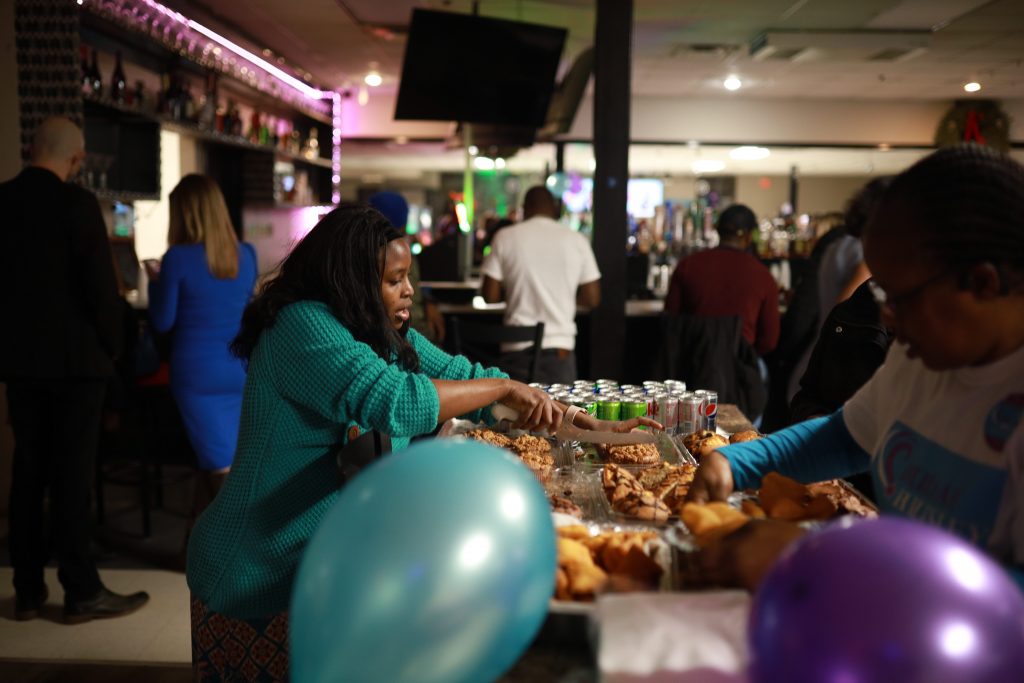 Stella Blessings described working with Momanyi-Hiltsley for SaniNaps, a Kenyan-based nonprofit that strives to increase school attendance by providing girls with feminine hygiene products.
"She did it from the kindness of her heart," said Blessings. "It was a challenge because the Kenyan government did a crackdown and was trying to profit from her donations. But she persevered and found a way to deliver the products. Huldah will do what she says she will do, no matter what."
Momanyi-Hiltsley's campaign manager Ian Oundo shared why he believed community support is so crucial during this time.
"These opportunities to have a Black woman in office don't come often," said Ian Oundo. "We can't expect others to show up if we do not show up for our ourselves."
Panashe is a general assignments reporter.





(No Ratings Yet)


Loading...