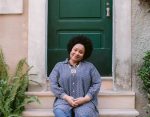 Lucibela will bring a night of Morna and Coladeria music to the stage when she performs at The Cedar Cultural Center September 16th. This will be her second tour in the USA. A second album, Amdjer, released in June of this year will fill much of the setlist.
Mshale spoke to Lucibela last week week. She reflected on the past two years. "Because of the pandemic, after being at home for so long, I started writing some texts that became my first compositions." Although she'd attempted to write her own work previously, she admitted, "I always gave up", but during the time of Covid, "I managed to finish about 6 songs of my own. I have now recorded two of these songs on my new album."
Lucibela performs traditional Cape Verdean music, yet she makes it her own. Drawing on the inspirational Cesária Évora, the Queen of Morna who helped bring the tiny collection of islands that comprise Cape Verde into the public's eye, Lucibela learned that to sing the morna, "we have to feel it."
She continued, "when I sing a morna I think of the lyrics of the song, if it is sad I feel it, if it talks about love I feel it too. I try to perceive the story, feel it and convey it to the audience. That's what makes me sing a morna; it's my way of feeling and transmitting the music when I sing. I believe that these feelings are unique to each person."
Cape Verde, uninhabited until it was colonized by Portugal in the 1400s, sits almost 600 miles to the west of Senegal and three times that distance from Portugal. The country asserted sovereign rule in 1975. When Cesária Évora earned a Grammy in 2004, the country pointed a spotlight on its rich musicianship.
Although the Barefoot Diva passed in 2011 when Lucibela was 25, still five years away from debuting internationally, a tremendous impression was made.
"I want to continue to spread Cape Verde's music to the world. Cesária showed us that it is possible to be a great artist even being from a small country like ours, she makes me believe that it is possible to dream and pursue this dream of making a career in our traditional music and taking it to the four corners of the world."
One of those corners will be Minneapolis.
Tickets can be purchased here. Doors open at 7 pm and the show begins at 8 pm with Douala Soul Collective as the opening act.
Susan is based in Minneapolis and reports on general assignments for Mshale with a focus on entertainment. In addition to reporting, she is also a writer, poet, teacher and coach.





(1 votes, average: 5.00 out of 5)


Loading...