Imarhan took us to another land where music is the only currency and they throw out $100 bills like candy. Imagine standing in the audience, catching those notes, your giddy joy at such fortune.
It definitely felt wonderful Tuesday evening at The Cedar Culture Center hearing Tuareg music played by this Algerian desert band. They were all about the music, offering no banter between songs. The lead singer and guitar player, Iyad Moussa Ben Abderahmane aka Sadam, on occasion whispered a thanks to the audience, but then dove back into the set-list and focused on the next song.
Imarhan opened with Temet, the title song off their second album released in 2018, which starts slowly and builds as if the dawn is breaking. A few people in the audience move closer to the dance area and start to sway with the second number, Assof, which is more insistent.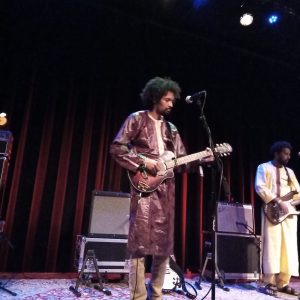 By the third song, Laouni, Haiballah Akhamouk on calabash and Hicham Bouhasse on drums, have established a dance beat the dedicated dancers find irresistible. When the band breaks out with Achinkad, featured on their third and latest album, Aboogi, the crowd responds with enthusiasm. Bouhasse has displayed his agility, consecutively playing drums, guitar, and percussion all with an impish playfulness.
Their set-list is almost a cut-n-paste from their album, Aboogi, but no one complains. More and more of the 140 people, according to house manager, Kendall, join in the dancing. Abdelkader Ourzig on rhythm guitar attempts a bit of fancy footwork, but the rest of the band does not join him. The repetitive, trance-like sound builds and ebbs until it resolves only to pick back up in the next song.
The bass guitarist, Tahar Khaldi, and Akhamouk both wear the traditional turban and litham, covering their head and most of their face. All wear tunics of white or yellow or bronze color. Sneakers or sandals cover their feet.
They play for over 90 minutes, 16 songs including the two encore pieces. With nearly no conversation, they fully deliver on the implied promise to perform their rich music steeped in meaning that most of us can't understand because we don't know their language. After the show, I overhear a couple conversations with band members, but none are in English.
Once again, music is the universal language. A visitor to the United States, Nicaraguan Rachel, proclaimed that whenever she visits from her Central American country, she makes a beeline to The Cedar because she trusts the venue to always provide top-notch music. Imarhan did not disappoint.
Susan is based in Minneapolis and reports on general assignments for Mshale with a focus on entertainment. In addition to reporting, she is also a writer, poet, teacher and coach.





(2 votes, average: 5.00 out of 5)


Loading...