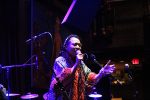 "I always tried to run away from music, but it always called me back."
Carolyne Naomi, singer-songwriter, born and raised in Lagos Nigeria, now based in Minneapolis, described the magnetizing draw music had on her even as she pursued an undergraduate degree in English and a Masters in Communication in Nigeria.
The guitar she first picked up at age nine finally stuck for good when she moved to Minnesota in 2014. "Even when I had [earned] my Masters," Carolyne Naomi explained, "the self-fulfillment wasn't complete. There were other things I wanted to accomplish. I still felt empty." She admitted to herself, "it's the music," she was seeking and in pursuit of the music, she landed in Minnesota.
After several forays into the word of music: choir as a teenager, a competitor in the first season of Project Fame West Africa in 2008, Carolyne Naomi, having earned two degrees not related to music, started an online course with Berklee Online to solidify her skills in teaching guitar. She transferred to McNally Smith College of Music in St. Paul, Minnesota.
"Moving to Minnesota particularly was [because of] my brother," she said. "He lived here with his family 20 years." He dissuaded her from going to Boston because she didn't know anyone there and in Minnesota Carolyne Naomi also had cousins.
Gigging at Open Mics and other small venues happened quickly for this AfroFunk artist. "Right away I was able to get on stage," she said. "I went to coffee houses, small stages, and did a lot of networking." Among the influencers she met, Carolyne Naomi sang backup for Neo Soul Dominican musician, Samantha Moon.
Nowadays, she's backed by the band Gifted Handz that includes Joe Mason – drummer from Liberia; Joshua Cole – keyboardist from Liberia; Yonathan Bekure – bassist from Ethiopia; and Derrick Holleman – lead guitarist from the US.
"My style is heavily influenced by R&B, AfroPop, AfroBeats, Reggae, and Gospel," Carolyne Naomi said describing her unique integration of sound.
As recently as November 4th, Carolyne Naomi used her influence to promote herself, her band, and other African musicians, doing her part in supporting fellow musicians working to gain an audience.
Her debut EP 'Miss Naomi' release concert at the Icehouse in Minneapolis included fellow Nigerian singer Anjy bey; Reggae artist, Ryan Liestman; and Congolese Dia Toti who took the spotlight and energetically led us in several songs that were irresistible dance numbers.
Carolyne Naomi also included Korma Afrocontigbo Danse, an Afrobeats Dance Company that lead the audience of about 200 people, in Congolese style dancing.
The four-hour show was curated by Carolyne Naomi to offer a contemplative first set followed by a dance party for the second set.
It's not lack of collaboration, creative juices, talent, or even time that Carolyne Naomi faces. "One of the main challenges, I think," said Carolyne Naomi reflecting on her long journey to success, and this is true for nearly all budding musicians, she asserted, is "getting financial resources. It takes a lot of money to pay for everything. At so many venues, they want me to play for free, as if exposure was sufficient."
In fact, as a novice, she did play for free, but those days have been spent. Carolyne Naomi perseveres despite "people not valuing [the musician] as creator."
"I'm looking for patrons to invest in Carolyne Naomi Music Production," she said. Until she finds more backing by way of sponsorship or other funding, she'll continue to promote what's already produced and make more videos of her work with a goal of completing 12 to 14 songs that she can release on an album.
"You just have to pick yourself up and go do it," she said with resolve.
Susan is based in Minneapolis and reports on general assignments for Mshale with a focus on entertainment. In addition to reporting, she is also a writer, poet, teacher and coach.





(1 votes, average: 5.00 out of 5)


Loading...