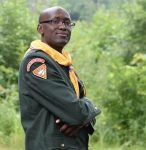 The Mountain Experience (TME) SDA Church in Mounds View, MN and the family of Elder William Moochi is sad to announce the passing of Elder George Nyakundi Moochi of Edina, Minnesota on Thursday, February 2, 2023 which occurred at Hennepin County Medical Center where he was undergoing treatment.
He was the son to the late Elder William Moochi and Aska Magoma.
He was Brother to Teleck, Wilfred, Priscilla, Lydia, Joseline, Esther, Ana, late Dorothy & Naomi. Cousin to Isaiah & Michael Nyamburi, Lawrence Mokaya, Charles Mokaya all of Minnesota and Ruth, Nyambati, Elizabeth all of New York, Orina ND, Kennedy DE, Zadock & Moraa all of North Carolina, Anne & Maxwell, Zakayo, Ong'uti, Nyambati, Okara, Musa, Yobesh, Nemwell among others all of Kenya. Uncle to Isaboke NC, Linda, Angela, Sheila, Kenyuri, Ruth, Jerusha, Joshua, Elijah all of Minnesota, among others.
Family and friends are meeting daily for prayers at: 2253 Cheshire Circle, Mounds View, MN 55112.
For financial contributions, please send to:
Edward Anunda Cash app: $EdwardAnunda or Zelle:763-318-9119.
Join the WhatsApp Group: https://chat.whatsapp.com/HJe4h8uFdmH5b1AfmFVnH9
For more information and for messages of condolences and encouragement, reach out to:
1. Isaiah Nyamburi: 952-237-6484
2. Lawrence Mokaya: 612-351-7115
3. Dennis Bundi: 612-481-0666
4. Pastor Eric Mokua: 763-607-1193
5. Pastor Peter King'oina: 763-316-9353
6. Elder Japheth Kimaiga: 763-422-0222
7. Elder Evans Sing'ombe: 612-986-0101
8. Elder Duke Onyangi: 763-516-4555
9. Wycliff Kimaiga: 612-351-7115
10. Kennedy Nyamburi: 302-442-2455
11. Isaboke Ombongi: 919-638-9466
12. Elizabeth Amenya: 845-531-9245
13. Jared Onkoba: 908-266-8769
14. Geoffrey Nyamburi 845-490-8755
15. Elder Collins Maranga: 763-232-3555
16. Pastor Leakey Nyaberi: 763-443-6300
17. Pastor Jared Kigori: 773-971-0247





(No Ratings Yet)


Loading...