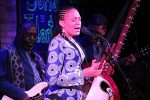 Before this week is out, Madison, Chicago, and Atlanta will find themselves plunged into the deep well of music created by Sona Jobarteh and her band. Monday night, the first day of spring, Minneapolis audience at The Dakota welcomed Jobarteh from her Gambian home to the first gig of her North American tour 2023.
A ground-breaking virtuosic kora player of a griot family that includes grandfather, Amadu Bansang Jobarteh, and cousin, Toumani Diabaté, Sona Jobarteh stands shoulder-to-shoulder with them.
Tuesday's show immediately pointed to the band's skill and interdependence as they played off one another earnestly and whimsically. Like a murmuration of starlings, though we didn't know which way they would turn, they always did so in unison no matter how sharp the ascent.
The second number, Jarabi, from her album, Fasiya, hinted at the level of involvement she hoped to attain from the audience. She coaxed us into singing a short phrase, Wee-oh, Jarabi, over and over, which we willing did. Jobarteh told us that tonight "sets the tone for the next two months, no pressure!"
Following Jarabi, we heard Mamamuso, also from her first album.  Mamamuso is a tribute to her late grandmother, Kumunaa, who encouraged her to learn and study the kora despite the 700-year precedent of father-to-son teaching and playing of the instrument.
Interspersed between songs, Jobarteh offered us an education on the family of instruments played by griots: the calabash, which was played by band member Mamadou Sarr from Senegal; the 21-stringed kora played by Sona; and though not present on stage, the "grandfather of them all," the balafon. All three of these instruments use a gourd or gourds as the resonator.
Jobarteh's most recent album, Badinyaa Kumoo, a seven-year-long production was introduced with the show's fourth number, Nna Kangwo. Dressed in a form-fitting two-piece outfit, a study in blue with patterned circles nestled next to one another, Jobarteh performed this piece, prefaced with a story about including a harmonica player on the album's recording.
Jobarteh explained that after finishing the song and listening to it, she could hear that something was missing. In her quest to find the missing element, she determined it was a harmonica. "A harmonica?" She said quizzically, but continued, "I don't question the inspiration, I simply trust it and follow."
When her fingers pluck the strings, they move with mad speed, it's as if she's typing out words as she strums and picks. "The purpose of music is to communicate," she said, "music is the language of our lives."
Jobarteh talks a lot during her two-hour show and they only played eight songs, but her spoken words carry such weight and the music, not catchy ear-worms, but consummate pieces, are all delivered with reverence and profundity. My seat mate said the evening went by like a flash of lightning and it carried the same power.
The show included Gambia, a number currently trending in social media. "In Gambia, we have a different version of time, it's called Tomorrow," she said eliciting laughter. The song, written to mark the new year, however is about independence, which "has not been achieved on every level on my continent," she said.
At the end of the show, Jobarteh urged an audience member to come to the stage. Chérif Keïta, a professor at Carleton College, has been an inspiration and even an inadvertent contributor to her music when she named her album, Fasiya, after one of his books. She sang a song of unity, which drives her greatest hope, a unity of the African continent even as each culture retains its tradition, culture, and values.
Talking to acoustic guitarist Eric Appapoulay after the show, he confirmed Jobarteh's skills at bringing audiences and people together. "She starts slow and builds to include everyone," he said.
Susan is based in Minneapolis and reports on general assignments for Mshale with a focus on entertainment. In addition to reporting, she is also a writer, poet, teacher and coach.





(1 votes, average: 5.00 out of 5)


Loading...