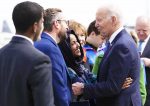 Congresswoman Ilhan Omar on Wednesday said she will support President Joe Biden's reelection campaign, after the president announced on Tuesday that he is running for a second term.
"This is a very dangerous moment for our country and the president (Biden) that is leading us has done a great job and we need to coalesce behind him," Omar told MSNBC's Alex Wagner.
In a Thursday morning statement from her campaign staff following the MSNBC appearance, Omar emphasized the president's visit earlier this month to her district to celebrate the major accomplishments the Democrats' slim majority has brought about, and the dangers a return of Trump to the White House poses to the country.
"President Joe Biden's visit to Fridley in my District this month underscored all that we have accomplished as Democrats in the past two years—the biggest investments in clean energy in history, hundreds of thousands of new jobs in Minnesota and millions of dollars invested in community projects directly in the Fifth District. It is for these reasons and more that I plan to support our Democratic President for reelection," the congresswoman said. "We are facing a direct threat to our existence as a democracy from Donald Trump and his fellow MAGA Republicans and we need a united front to combat it. I will continue to push for progressive change on issues like student debt, child hunger, immigration, and foreign policy."
Mr. Biden made his reelection bid official with an early Tuesday morning video, launching by saying "When I ran for President four years ago, I said we are in a battle for the soul of America and we still are. The question we are facing is whether in the years ahead we have more freedom or less freedom, more rights or fewer. I know what I want the answer to be. This is not a time to be complacent. That's why I'm running for reelection."
During his visit to Rep. Omar's district earlier this month, Biden said of Omar "You never stop working to level the playing field for everybody."
In the 2020 presidential election in Minnesota, where the state led the nation in voter turnout at almost 80%, Mr. Biden beat Mr. Trump by 7 percentage points.

Born and raised in Kenya's coastal city of Mombasa, Tom is the Founder, Editor-in-Chief and Publisher of Mshale which has been reporting on the news and culture of African immigrants in the United States since 1995. He has a BA in Business from Metro State University and a Public Leadership Credential from Harvard's Kennedy School of Government. He was the original host of Talking Drum, the signature current affairs show on the African Broadcasting Network (ABN-America), which was available nationwide in the United States via the Dish Network satellite service. On the show, he interviewed Nobel laureates such as 2004 Nobel Peace prize winner, Professor Wangari Maathai, the first woman from Africa to win the peace prize and heads of states. Tom has served and chaired various boards including Global Minnesota (formerly Minnesota International Center), the sixth largest World Affairs Council in the United States. He has previously served as the first Black President of the Board of Directors at Books for Africa. He also serves on the boards of New Vision Foundation and the Minnesota Multicultural Media Consortium. He has previously served two terms on the board of the United Nations Association. An avid runner, he retired from running full marathons after turning 50 and now only focuses on training for half marathons.





(No Ratings Yet)


Loading...