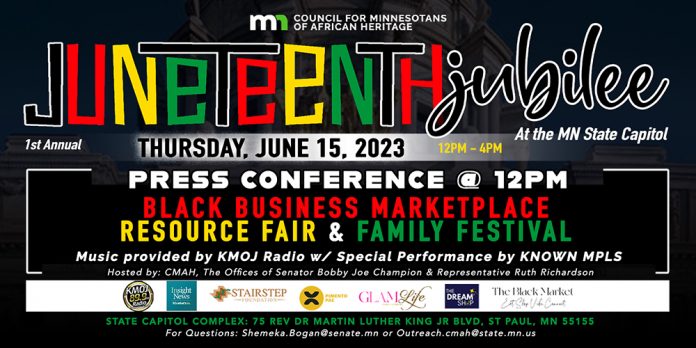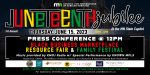 Dangerously toxic air quality in Minnesota forced state legislators to cancel an event they had planned Thursday to mark the first year of Juneteenth as an official holiday under state law.
Smoke from wildfires in Canada has been spreading south and engulfing most states that border the country. On Wednesday, the Minnesota Pollution Control Agency (MPCA) issued an air quality alert that was to be in effect through Friday June 16.  The air quality index (AQI) used to measure fine particles of pollutants reached 175, which is categorized as unhealthy "for everyone across north and central Minnesota," according to MPCA, prompting the cancellation of all outdoor activities.
In a statement released to the press regarding the cancellation of the official Juneteenth event, Florkime Paye, the community engagement and communications director of the Council for Minnesotans of African Heritage (CMAH), advised people to follow MPCA guidelines, as well as those of local government agencies.
"As we know, the African heritage community is disproportionately affected [by] air quality and environmental pollutants," Paye said.
Air pollution is a long-standing problem in the United States, and disproportionally affects low-income and communities of color, according to a study published in 2022 in the journal Nature. The study, which was authored by the Harvard T.H. Chan School of Public Health, found that Black, Asian and Hispanic American communities were more exposed to air pollution at higher concentrations than white populations were. And an analysis of U.S. Centers for Disease Control (CDC) data by the American Lung Association found that in 2018, Black people were 42% more likely to have asthma than white people. It also showed that low-income communities, regardless of race, were also more likely to experience higher levels of air pollution than high earning communities.
CMAH collaborated with the offices of state Sen. Bobby Joe Champion and Rep. Ruth Richardson to organize the Juneteenth celebration, which was scheduled to take place on June 15 from noon to 4 p.m. on the steps of the State Capitol in St. Paul. Champion, who is also the president of the Senate, was the chief author of the bill, which the state legislature passed in January before Gov. Tim Waltz signed it to make June 19 a state holiday.
"Great nations do not ignore their most painful moments, they face them," Champion said back in January when the bill passed. "Today, we faced the pain and suffering caused by the legacy of slavery and segregation by designating Juneteenth as a day to be commemorated by Minnesotans."
Although President Abraham Lincoln made the Emancipation Proclamation that abolished slavery by on January 1, 1863, not all slaves in the Union were freed. Slaves in Texas didn't find out that they had been freed until June 19, 1865, when U.S. Maj. Gen. Gordon Granger announced the freedom of 25,000 formally enslaved Black people through executive decree known as General Order No. 3.
In 1866, a group of freed African Americans to celebrate the end of centuries of enslavement. The day became known as Juneteenth and is the oldest know holiday celebrating emancipation of slaves, according to the National Archives. Juneteenth has since evolved to become one of the most important holidays that commemorate the resilience of the Black community in the United States. It has been as state holiday in Texas since 1980, and on June 17, 2021, President Joseph R. Biden signed a law, making Juneteenth a federal holiday.
Minnesota is one of 27 states that have enacted laws proclaiming Juneteenth as an official government holiday. Unfortunately, due to the poor air quality, Champion and others must wait until next year for an official commemoration of the holiday at the State Capitol. Speaking with Mshale, Paye, the CMAH official, said response from local Black businesses and members of the community who were looking forward to the day indicated that they understood the importance of adhering to the air quality alerts released by the MPCA.
"We have had a positive response from the African heritage community, stakeholders, the businesses and other community member," she said. "We would like to send them our gratitude for their understanding of the importance of prioritizing the health and safety of our communities."

Milkee is a general assignments reporter.





(No Ratings Yet)


Loading...