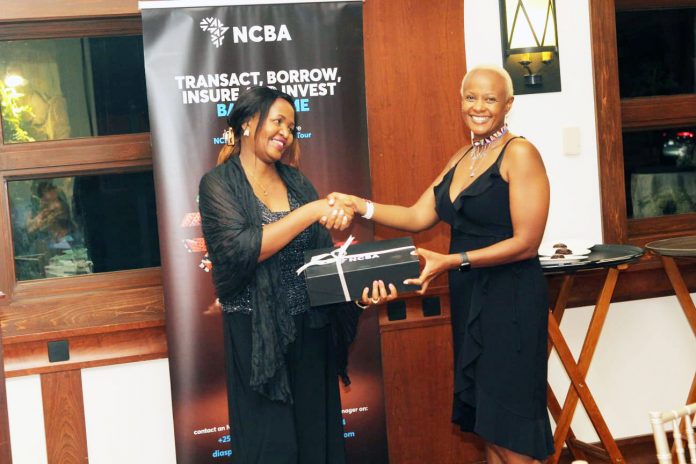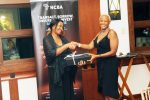 NCBA, Kenya's third-largest bank by assets and customer deposits, last weekend in Boston began its marketing road show for banking services tailored for the diaspora, underscoring the latter's significance as an important and profitable customer base for Kenyan banks.
The bank, one of only 12 that are listed on the Nairobi Stock Exchange, announced its next stop is Minnesota starting September 14 through September 19.
Central Bank of Kenya figures show remittances from Kenyans in the diaspora were the leading foreign exchange earner last year totaling $4.027 billion in 2022, with close to 54% of that coming from North America, mostly the United States. Tea, the country's leading export, brought in $1.2 billion in 2022.
The 2022 "Bank Supervision Annual Report" by the Central Bank of Kenya (CBK) listed NCBA as third in market share in terms of customer deposits and third in total assets. There were 39 banks operating in Kenya by the end of 2022, according to CBK.
Ms. Mercy Kagwiria, a deputy director at NCBA and head of its consumer banking division, told Mshale on Wednesday after arriving in Minneapolis that one key advantage her bank provides to the diaspora is that of a dedicated relationship manager.
"Each diaspora customer benefits from having a dedicated relationship manager that can walk with them in their financial journey, recognizing their unique needs," said Kagwiria.
As for the notorious ledger fees (equivalent of monthly or maintenance fees at some U.S. banks) that Kenyan banks charge, Ms. Kagwiria said diaspora customers can "enjoy our zero monthly ledger fees on their banking accounts."
Ms. Kagwiria, a 17-year industry veteran, said conversations with the bank's diaspora customers has revealed what she called a "key pain point" for many of who would like to invest in real estate back in Kenya.
"Listening to the Kenyans in diaspora, getting a reliable and trustworthy person back home to effectively run with a construction project on their behalf has been a key pain point," Kagwiria said.
She said her bank has come up with a turnkey solution to address the needs of diaspora Kenyans that want to invest in the real estate market.
"Our easy build proposition makes property ownership back home hustle free. As an NCBA diaspora customer you can rely on us to run with your construction projects back home," she said. "We do this through a consortium of prequalified technical professionals like engineers, quantity surveyors, architects and contractors that seamlessly facilitate completion of the projects in a cost-effective manner."
Ms. Kagwiria described her team's reception in Boston by Kenyans there as "exciting and warm" where she said they had a chance to meet with Kenyans at dinner events and church meetings. She said she looks forward to similar interactions with Kenyans in Minnesota.
After Minnesota, the team will be in Seattle on September 21-26 and in Dallas on September 28 through October 3.
NCBA Meetings with Kenyans in Minnesota
The flyer below shared by the NCBA team shows dates and venues where they will be meeting with Kenyans to open accounts or answer questions for existing customers.
What to bring: If interested in opening an account you will need your Kenyan ID and KRA PIN. KRA is Kenya Revenue Authority. If you don't have a KRA PIN, you can obtain one instantly at this KRA link.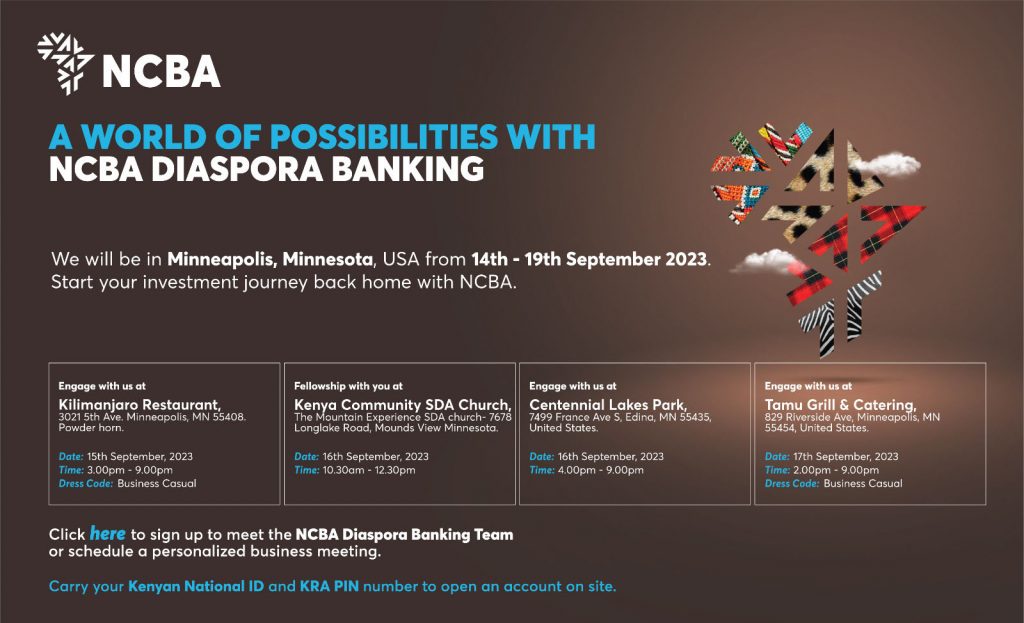 Born and raised in Kenya's coastal city of Mombasa, Tom is the Founder, Editor-in-Chief and Publisher of Mshale which has been reporting on the news and culture of African immigrants in the United States since 1995. He has a BA in Business from Metro State University and a Public Leadership Credential from Harvard's Kennedy School of Government. He was the original host of Talking Drum, the signature current affairs show on the African Broadcasting Network (ABN-America), which was available nationwide in the United States via the Dish Network satellite service. On the show, he interviewed Nobel laureates such as 2004 Nobel Peace prize winner, Professor Wangari Maathai, the first woman from Africa to win the peace prize and heads of states. Tom has served and chaired various boards including Global Minnesota (formerly Minnesota International Center), the sixth largest World Affairs Council in the United States. He has previously served as the first Black President of the Board of Directors at Books for Africa. He also serves on the boards of New Vision Foundation and the Minnesota Multicultural Media Consortium. He has previously served two terms on the board of the United Nations Association. An avid runner, he retired from running full marathons after turning 50 and now only focuses on training for half marathons.





(No Ratings Yet)


Loading...