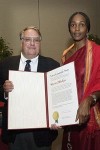 Kenyan conservationist, Dr. Nyawira Muthiga, has been awarded the prestigious 2005 National Geographic Society/Buffett Award for Leadership in Conservation. Dr. Muthiga, who is the coordinator of the Wildlife Conservation Society's Western Indian Ocean Marine Program, won the award for leadership in African conservation.
Dr. Muthiga received her $25,000 price from agriculturalist, businessman and widely published agricultural, humanitarian and wildlife photographer Howard Buffett at the National Geographic Society in Washington, D.C., on Wednesday, Oct. 19. Mr. Howard Buffett is the son of well known investor, Warren Buffett. The award was established through a gift from the Howard G. Buffett Foundation and acknowledges the winners' outstanding work and lifetime contributions that further the understanding and practice of conservation in their countries.
Dr. Muthiga is a marine scientist whose visionary leadership has helped make a model for marine conservation in
East Africa
. As coordinator of the WCS's Western Indian Ocean Marine Program, Muthiga oversees marine and coastal research and biodiversity conservation programs in , , , and , with a focus on reconciling the needs of local communities with the region's conservation priorities for marine wildlife. Projects include research on coral reefs and mangrove and coastal forests, and studies on marine species of special concern, such as dugongs and sea turtles. Her impact on marine conservation in
includes the development of effective marine-protected-area management plans, community ecotourism initiatives and an extensive training program for marine-protected-area staff and community representatives.
Dr. Muthiga, who has a Ph.D. in zoology from the
University
of
Nairobi
, is also president of the Western Indian Ocean Marine Science Association. She oversees marine and coastal research and biodiversity conservation programs in , , and .
This program focuses on reconciling the needs of local communities with the region's conservation priorities for marine wildlife.
National Geographic Society/Buffett Award recipients are chosen from nominations submitted to the National Geographic Society's Conservation Trust, which screens the nominations through a peer-review process.
"This year's awardees are being recognized for their outstanding leadership and the vital role they play in managing and protecting the natural resources in their regions. They are inspirational conservation advocates, who serve as role models and mentors in their communities," said Thomas Lovejoy, chairman of the Conservation Trust. The Conservation Trust supports innovative solutions to issues of global concern, and encourages model projects that engage and inform their areas' local populations, according to National Geographic.
In addition to serving as president of the Howard G. Buffett Foundation, which focuses on humanitarian, conservation and education issues, Buffett is president of Buffett Images and chairman of the Nature Conservation Trust. He is also a member of the Commission on Presidential Debates.
Nyawira's husband, Timothy is also involved in marine work as is their son Robert.
Besides her Bachelor's degree and Doctorate from the
University
of
Nairobi
, she is also an alumnus of
Florida
State
University
where she obtained a Masters Degree in Biological Oceanography.
Her accomplishments have caught the attention of the government. Last year the government established the Kenya Maritime Authority and appointed her as a director. The Authority regulates maritime affairs in and oversees the enforcement of maritime and shipping laws.
In an interview she gave to Nairobi's East African Standard newspaper after winning the award, Dr. Muthiga said coral reefs form one of the most important eco-system in the Indian Ocean region and have received a great deal of attention, especially following the 1997/98 bleaching event that devastated 70 per cent of the reefs in the region. At the interview she gave to the Standard, she said as a young child, she got accustomed to the sea and would often spend entire afternoons at the beach. This was in the late 60s when her family was living in
Dar es Salaam,
's commercial and port city.
She was later to attend 's prestigious
Alliance
Girls
High School
. After high school, she enrolled at the
University
of
Nairobi
for a zoology degree. She described her mother, who was among the first Kenyan women to get a degree from the and later a top manager at one of the largest corporations in
East Africa
, as a great motivator.
Dr. Muthiga has written several international marine journals and also served as a member of the based
World
Fish
Center
whose stated mission is to reduce poverty and hunger by improving fisheries and aquaculture.

Born and raised in Kenya's coastal city of Mombasa, Tom is the Founder, Editor-in-Chief and Publisher of Mshale which has been reporting on the news and culture of African immigrants in the United States since 1995. He has a BA in Business from Metro State University and a Public Leadership Credential from Harvard's Kennedy School of Government. He was the original host of Talking Drum, the signature current affairs show on the African Broadcasting Network (ABN-America), which was available nationwide in the United States via the Dish Network satellite service. On the show, he interviewed Nobel laureates such as 2004 Nobel Peace prize winner, Professor Wangari Maathai, the first woman from Africa to win the peace prize and heads of states. Tom has served and chaired various boards including Global Minnesota (formerly Minnesota International Center), the sixth largest World Affairs Council in the United States. He has previously served as the first Black President of the Board of Directors at Books for Africa. He also serves on the boards of New Vision Foundation and the Minnesota Multicultural Media Consortium. He has previously served two terms on the board of the United Nations Association. An avid runner, he retired from running full marathons after turning 50 and now only focuses on training for half marathons.





(No Ratings Yet)


Loading...