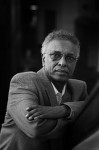 Said Salah Ahmed of
Minneapolis
was among eleven Minnesotans awarded the 2005 Virginia McKnight Binger Awards in Human Service. The McKnight Foundation presented the awards on Friday, November 18, at a private ceremony in
Minneapolis
and described Mr. Ahmed as a Somali community builder.
A committee of seven people working in human service fields across the state selected the finalists from almost 100 nominations.
"It's difficult to fathom the true value of the combined hours these awardees have donated to
Minnesota
's communities," said Erika L. Binger, chair of The McKnight Foundation. "These people have found unique and important ways to make significant differences in the lives of others. We are proud to tell their stories, in recognition of all Minnesotans working to build communities and strengthen our state."
Since 1985, The McKnight Foundation has given the awards each year to recognize Minnesotans who demonstrate the difference one person can make in helping others. The awards are named for the Foundation's former chair and president, Virginia McKnight Binger. Mrs. Binger served the Foundation for nearly 50 years as a board member, as president from 1974 through 1987, and then as honorary chair until her death in 2002. Although her parents, William and Maude McKnight, established the Foundation, it was Mrs. Binger's personal compassion and generosity that set the standard for the Foundation's work.
Candidates for the awards are nominated confidentially by someone familiar with their work. No one may apply for them directly. Counting this year's recipients, 220 individuals, including eight pairs, have received the awards.
Said Salah Ahmed "uses his gift for words and theater to speak to the hearts of Somali people. A former refugee, Said is an educator and mentor, dedicated to mobilizing, educating, and reflecting on the rich tradition of Somalis around the world. As president of the Somali Action Alliance, he strives for peace, reconciliation, and an end to discrimination", a McKnight description of him stated.
The $7,500 awards honor
Minnesota
residents who give their time to improve the lives of people in their communities.





(No Ratings Yet)


Loading...