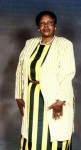 Ms Patrose Beatrice Mbithe Getugi is a middle-aged woman residing in
Minnesota
. She is not an ordinary lady, she is both flamboyant and a natural leader. Hailing from , she has made her mark as a politician, an activist in women empowerment, a community organizer-cum-leader, a teacher and a firm believer in the conventional wisdom that educating a woman is synonymous with educating a family.
Beatrice is fluent in Russian, English, Yugoslav, Scheck, Bosnian, and Swahili alongside other native tongues from 's multi-ethnicity tribes. On completion of her high school education in , she won a scholarship to study at
Moscow
State
University
in 1965 where she obtained her bachelor's degree in political science. She went on to obtain a diploma in Accountancy and co-operative management at the Moscow Institute before travelling to Bonn () for a diploma in Adult Education and later returned to to pursue a course in Business Management from the Kenya Institute of Administration.
Talk about her track record in community service and she is simply all over the place. Her list of public involvement is endless. To mention a few, she is currently President of the Kenyan American Association, Treasurer of the Kenyan International Resource Center, a trained instructor on HIV-AIDS in Minnesota and a former Chair-person of Nyagetinge Umoja Association – a non-profit organization for Kenyan immigrants in Minnesota.
Beatrice came to after her voluntary retirement in and she pursued a career in child development education. She is a holder of Early Child Development Certificate and an Associate degree in Child Development from
Hennepin
College
and
St. Paul
Technical
College
. She is currently employed at a school in
Brooklyn Center
where she works with pre-school and school age kids. She has a motherly presence that augurs well with kids.
Many American kids from
Minnesota
who have attended pre-school and school age education at Kid's Dominion have fond memories of the Good-African Mama where she is presently serving as Assistant Director. She believes that giving children quality education is the surest way to secure their future. Even at her age, she is still searching for more avenues to increase her educational qualifications. She told me that the only time when you stop learning is when you are placed in the graveyard.
According to African tradition and the extended family etiquette of Africans at home and in the Diaspora, Beatrice has been at the forefront in promoting cultural values among the people in her neighborhoods. She has been handy during funerals of next of kin and friends, at baby showers, has worked for the establishment of women, youth and seniors programs.
Her career has seen her through lecture rooms at the Co-operative College Karen Nairobi (Kenya) and Cooperative College Moshi (Tanzania), District Chairperson of Women Group in Embu District (Kenya), Red Cross Secretary in Eastern Province and officer-in-charge of a Savings and Credit Society in Nairobi.
Today, Beatrice is very active in church projects, wedding arrangements, baby showers, is effective in settling interpersonal disputes and has assisted people going through hardship conditions such as those who require bailing from litigation.
Beatrice is on record to have led a Minnesota delegation to Washington D.C. to meet with the Kenyan President Hon Mwai Kibaki in one of his visits to the . One of the attributes that make her uniquely qualified for leadership positions is her firm belief in transparency and accountability. She asserts that as a people "we need to be visionary, for where there is no vision, people perish." That quote appropriately sums up her charismatic personality; and we may add, she was born to lead.

Swallehe Msuya was a senior staff writer at Mshale with extensive media experience in his native Tanzania. He was a general assignments writer. Investigative stories that Mshale undertook were normally his responsibility. Swallehe passed away in Sept. 2009 at the age of 61. Mshale will forever miss his tenacity and wisdom.





(1 votes, average: 5.00 out of 5)


Loading...