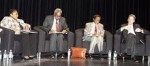 Former Prime Minister of Somalia, Dr Ali Khalif Galaydh has pointed an accusing finger to the neighboring states of Ethiopia and Kenya as the obstacles to peace in his country.
Speaking during a panel discussion sponsored by the Minnesota International Center at a packed assembly hall at the University of Minnesota's Coffman Union on December 7, Dr Galaydh accused the named countries of interference in the internal affairs of and serving as a conduit of arms trafficking that is fueling conflict in for the last 15 years.
While he questioned the validity of sending a multinational peace keeping force to help improve the security situation, he objected very strongly to the inclusion of soldiers from the three countries because their governments have vested interests in the current chaos in.
He said historically, had a record of good democratic governance before the collapse of the system in 1973. "There was a time when could boast of state cohesion and a massive infrastructure, we had no political detainees before the chaos, the Somali people are tolerant Sunni Muslim pastoralists, and as a nation we have the hardware but lack the operating systems, (to borrow the computer language)."
Dr Galaydh said Somalia needs a coherent national vision with an accountable leadership. He said warring parties should engage in a peaceful dialogue with a measure of sanity to determine the way forward. He said Somalis at home and in the Diaspora must join forces to support the peace process and help build institutions of government instead of supporting personalities.
Quoting a Jewish Rabbi, "If not now, when? If not us, who?" he said Somalis have had enough suffering and now "enough is enough – salalabash".  He said Somalis must learn from Minnesota how to run democratic institutions and live a peaceful life without fear "of a beast following the caravan."
Dr Galaydh is on record to have served in three different administrations in and a member of the public asked why he has stayed so long in government and wondered if it was not time to give room to others. In reply he said, if you want to get involved in government, "you have to earn it the old fashion way, you cannot just sit back and wait for being anointed," causing ripples of laughter. He was one of the 650 delegates who drafted a National Charter based on a 1960 Constitution. He was Prime Minister in September 2000 and served until 2001. He now teaches politics at the Hubert H. Humphrey Institute for Public Affairs.
The panel discussion organized by the Minnesota International Center also brought on board Senator Norm Coleman, Dr Elmi Ahmed Duale – Permanent Representative of to the United Nations and Ambassador Jendayi Frazer, the Assistant Secretary of African Affairs in Washington, D.C.   The moderator of the panel was Gary Gilson, a veteran broadcast journalist.
Both Senator Norm Coleman and Ambassador Frazer said that the ranks highly in its agenda to "prevent the country turning into a safe haven for terrorists" and is helping in efforts to establish a viable democratic state in the horn of Africa. Sen. Coleman said he would push Washington to appoint a US Emissary for to help the country towards the restoration of order and peace, and institute a constitutional process for building a democracy. He warned that while the can take these initiatives; it cannot make things happen unless the Somalis themselves become fully engaged in a constructive dialogue to sort out their differences.
Senator Coleman referred to Somalia as a "fragile tender baby" and cautioned about the use of "words and actions" that may damage the peace process. He said it was imperative for Somalis to keep hope alive and nurture things that keep hope alive. He said Somalis should focus on their commonalties, aim at fighting poverty by creating economic vitality, eliminate HIV-AIDS and provide clean water to the people.
Ambassador Frazer spoke about the initiative to help contain poverty in Africa through the Africa Growth Opportunity Act (AGOA) in which African countries are given access for their goods into the market duty-free and quota free. She said over and above providing development assistance, the administration is working towards creating a level playing field by changing trade laws in the World Trade Organization (WTO) forum. She said on-going WTO talks seek to abolish agricultural subsidies in the industrialized nations to enable Africa that relies on agriculture as its economic backbone to catch up and have a level playing field in international trade relations.
Ambassador Frazer said, last year the administration disbursed $ 3.2 billion as development assistance to Africa. Minnesota has the largest Somali immigrant population now numbering 60,000.
Contributing to the panel discussion, Dr Elmi Ahmed Duale, the Somali Permanent Representative to the United Nations thanked the Minnesota community for being in the forefront of supporting the Somali case, pointing out that without their assistance many of their people would have died of hunger over the last 15 years. Dr Duale spent three years in detention in together with all Cabinet members of the last democratically elected civilian Government (1970-1973).
When Somalia had a functioning democracy, Dr Duale was Minister of State for Foreign Affairs. He had previously served as an elected Member of Parliament, Vice Chancellor of the National University of Somalia and used to work for the World Health Organization (WHO) for 30 years.

Swallehe Msuya was a senior staff writer at Mshale with extensive media experience in his native Tanzania. He was a general assignments writer. Investigative stories that Mshale undertook were normally his responsibility. Swallehe passed away in Sept. 2009 at the age of 61. Mshale will forever miss his tenacity and wisdom.





(No Ratings Yet)


Loading...