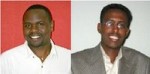 There are two new key additions to the Mshale team, according to Mshale Editor & Publisher, Tom Gitaa. Edwin Okong'o becomes Mshale's West Coast correspondent. Mr. Okong'o is the former Editor-in-Chief of The Pioneer, California State University 's student newspaper at the East Bay campus.
He held the position in 2004 and 2005. Previously he did stints as managing editor as well as city editor of that paper. In his new capacity, he will head Mshale's news gathering operations in that region. In 2005, he received the National Association of Black Journalists (NABJ) Student Development Program Award for Reporting. He has also been a recipient of the Outstanding Journalism  Student award at California State University, Hayward. He has a BA in Mass Communication from California State University.
His appointment is the first step in Mshale's plan to have key regions in North America covered by high calibre correspondents that will keep readers informed of news from those places, according Mr. Gitaa. At last October's Channel Afrique's gathering where Mr. Gitaa  was the guest speaker, he shared with those present that plans were afoot to take Mshale national. Channel Afrique is a monthly gathering of African professionals and business people in the Twin Cities area. The October 2005 edition of Mshale had a full blank page that with tiny letters called for new writers.Mr. Okong'o came across a copy of Mshale at a California distribution outlet and decided to follow up with an inquiry. He said he is very honored to join the solid Mshale team.
Mshale also announced that  Mr. Abdirahman Aynte, Editor of Hiiraan Online (www.hiiraan.com), one of the largest and most respected online Somali news portals will team up with Mshale as a Contributing Writer to augment the Mshale news gathering team. Mr. Aynte who has a BA in Communications from Metropolitan State University in Saint Paul "brings valuable experience to Mshale as one of the key people behind Hiiraan which many Somali people in the diaspora have come to rely on as portal", said Mr. Gitaa. Mr. Aynte still retains his position at Hiiraan and will work with Mshale on general assignments covering the community.  

Swallehe Msuya was a senior staff writer at Mshale with extensive media experience in his native Tanzania. He was a general assignments writer. Investigative stories that Mshale undertook were normally his responsibility. Swallehe passed away in Sept. 2009 at the age of 61. Mshale will forever miss his tenacity and wisdom.





(No Ratings Yet)


Loading...