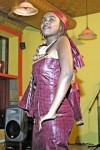 On December 23rd, patrons at Dashen Ethiopian restaurant enjoyed an energetic show of fashion, dance and poetry. It was a breath of fresh air to see various aspects of black culture portrayed all in the same event.
The group Diaspora set the pace for the night with a
Caribbean
dance and later in the evening returned to the stage with a samba routine and a hip-hop dance. The multitalented Abiola Lepe who is sings at la Bodega with Salsa Brosa put the group together. The group has about six members, but for this event Abiola was joined by only Keishonda and Buki who is also her sister. During the traditional segment of the fashion show, models donned outfits from their representative backgrounds. Esther from strutted the runway in a Ugandan Gomesi, Keishonda showed off a Jamaican Kumina while Ibe, the only male model, modeled a modern version of the boubou. Other styles on show were the Kenyan kitenge, Ethiopian Abesha libs and Somalian Girah.
Backed with soothing instrumentals, talented poet and spoken word artist Carl "Ovadiel" Horton graced the stage with his presence educating the crowd with a chronicle of African American history and another sensational piece on the past and present day Buffalo Soldier. native Ibe Kaba got the attention of all the females with his piece "Black on my mind" in which he implored black women to accept their unique features and the beauty they behold. A vibrant and charismatic
Isis
captured the audience with her performance "I promise" and was later joined by Abiola who did some background vocals for her.
As much as the performers held down the forte, much of the evening's success could be attributed to the lively host Karla Nweje, one of the co-founders of Black Synergy, which is the organization that put together the event. "Petros Haile was the brains behind the concept," she said. "He wanted to organize something that would bring the Diaspora together," she added. Together with other co-founder Tim Lowe, the trio combine dynamic talents and backgrounds. Karla is an actress, dancer, poet and educator and Tim is a graphic designer with lots of experience in the entertainment community, he is also the vice president of the Jamaican-Minnesota Association.
Petros is a business owner and involved in a lot of community work. Karla believes that with their connections they should be able to bring together black people from various communities, which is not so common, " It's all about unity and I hope that came across tonight," she concluded.
For more information on their future events or to participate email black-synergy@hotmail.com .





(No Ratings Yet)


Loading...