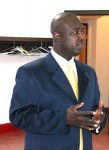 Two key investors have been added to the project to build the proposed African mall in Brooklyn Park. According to Mr. Kwaku Addy, the lead investor in the project, noted Twin Cities investors, Ron Vannelli and Jack Charles have joined him to bring the project to fruition. The two new investors have reportedly secured a $1.2 million loan through Mainstreet Bank to go towards the required $3.5 million needed to complete the project.
Mshale first reported on the project in January 2004. Back then, Mr. Addy of the African Food Market store in Brooklyn Park had revealed a plan to sell a 49% stake in his business to the public. During a recent briefing update he held for Mshale, he said the project has expanded in scope and now consists of three phases. The first phase is a mall which will include retail and office space. His busy African Market store currently on the intersection of Brookdale Drive and Zane Avenue in Brooklyn Park will be housed at the developed retail space. A second phase of the development will house a proposed African Community Center which will include a hall that can be rented out for events and a day care center. A gas station will also be located at the site and will consist of phase three of this major undertaking. The proposed site is located at the intersection of Noble Avenue and 85th in Brooklyn Park. The process is underway to obtain necessary city approvals.
Mr. Addy said interested individuals, numbering 15-20, can get in touch with him if they would like to invest in the African market portion of the project. He did not provide details on the level of investment required of the new investors. When he first broached the idea in 2004, he had hinted he expected a minimum investment of $1,000 from individual investors after issuing shares to them. He was to retain 51% majority shareholding with a projected goal of ensuring African Market has a capitalization of $10 million. At the recent briefing, he would only say that interested investors should get in touch with him.
He did however share that for businesses planning to locate at the future African mall, Brenda Wurtlinger of Mainstreet Bank is assisting with the Small Business Administration (SBA) loan process and can be reached at 651-982-2036. Mr. Addy can be reached at 612-290-7465.

Born and raised in Kenya's coastal city of Mombasa, Tom is the Founder, Editor-in-Chief and Publisher of Mshale which has been reporting on the news and culture of African immigrants in the United States since 1995. He has a BA in Business from Metro State University and a Public Leadership Credential from Harvard's Kennedy School of Government. He was the original host of Talking Drum, the signature current affairs show on the African Broadcasting Network (ABN-America), which was available nationwide in the United States via the Dish Network satellite service. On the show, he interviewed Nobel laureates such as 2004 Nobel Peace prize winner, Professor Wangari Maathai, the first woman from Africa to win the peace prize and heads of states. Tom has served and chaired various boards including Global Minnesota (formerly Minnesota International Center), the sixth largest World Affairs Council in the United States. He has previously served as the first Black President of the Board of Directors at Books for Africa. He also serves on the boards of New Vision Foundation and the Minnesota Multicultural Media Consortium. He has previously served two terms on the board of the United Nations Association. An avid runner, he retired from running full marathons after turning 50 and now only focuses on training for half marathons.





(No Ratings Yet)


Loading...