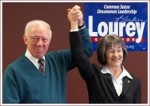 It is official, Becky Lourey is running for Governor of Minnesota. She made this announcement to Green Party friends and well-wishers at a House Party held at the residence of former Minneapolis mayoral candidate Farheen Hakeem on Friday, February 10. She said she had done the mathematics and is confident to win this race as she has alternative policies that will "put power in the hands of the people."
Introducing her campaign team of Liz, Barbara and Farheen; Becky proudly announced that she is "surrounded by people who care for the things that she cares for." Outlining her winning strategy, she said she stands for a "Universal Health Care Program" describing it as "the most durable" the blueprint of which should be out shortly. Determined "to deliver" and driven by the passion to fix things in Minnesota, she said what we see around us falls short of the people's expectations, and the people are thirsting for alternative choices.
On her proposed health care plan she said "we have worked so hard on it that we encourage people to read it when it is published." As a long-time legislator, she boasts of her track record in such programs as early childhood care, pesticide legislation, environmental issues, transportation concerns, and safe neighborhoods.
She was disappointed by the present Governor's plan to build more jail houses as a way to fight crime instead of investing on quality education that will keep our youth off the streets and place them on a sound footing to work on building successful careers.
She said our current democracy is based on "constitutional liberalism" in which a few rich people have hijacked the power from the people and do not care for social justice. Believing in their materialistic wellbeing, she asserted that the situation on the ground is reduced to that of the rich man's game "where survival is for the fittest."
Becky has raised 12 children, four of them are her biological children and the others are adopted and these include African-Americans and Koreans. "I have struggled to put food on the table for 12 children. At one time four of my children were on surgery, my husband was out of work and we had no health insurance. I know what being without health insurance means first hand."
She has seen racial injustice take place when her black children "got arrested when they should not," and when she sympathized with them they told her point-blank: "Mum we are being arrested because we are black."
She maintains that now is the time for change and she brushed aside skeptics by declaring "if you approach elections with a defeatist attitude, you will lose." She lashed out at the current administration for going "to war just for the oil" and passing down unprecedented huge budget deficits "to our grandchildren."
She laments that over the years, she has witnessed the legislature "being compromised" and it is time for new leadership that will work in the interest of the people and introduce a "fair taxation system." She is sure of winning this race because she has the winning strategy hinged on issues that the people of Minnesota want addressed now.

Swallehe Msuya was a senior staff writer at Mshale with extensive media experience in his native Tanzania. He was a general assignments writer. Investigative stories that Mshale undertook were normally his responsibility. Swallehe passed away in Sept. 2009 at the age of 61. Mshale will forever miss his tenacity and wisdom.





(No Ratings Yet)


Loading...