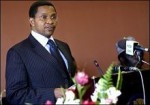 Tanzania's Fourth President, Jakaya Mrisho Kikwete who took office after last November's landslide election victory is a man of the people who combines the wisdom and vision of Nyerere and the liberalization stances of the economy of Mwinyi and Mkapa. He has inherited a stable, peaceful and unified country where patriotism and nationhood come first before other considerations like tribe, religion and sex.
His take-off is enhanced by the good groundwork of setting macro-economic fundamentals right of his predecessor Benjamin Mkapa and the positive gains of good governance and fiscal discipline that will be the legacy of Ben Mkapa. Kikwete has inherited a country that is free from debt as the World Bank and International Monetary Fund have approved Tanzania as qualifying for total debt cancellation. This is a strength he can build on.
Nyerere's greatest achievement was to build a strong foundation of unity, peace and pride in the nation that had evolved during his tenure to be the forefront of the liberation struggle in Southern Africa. Like Nkrumah of Ghana, Nyerere had maintained that the independence of Tanzania was incomplete until the total liberation of Africa was attained.
Under President Nyerere, Tanzania provided sanctuary to freedom movements from South Africa, Namibia, Zimbabwe, Mozambique, Angola and had thousands of refugees from the troubled neighborhoods. The image of Tanzania then was the distinct voice of Africa and international for a sought Tanzania's position on global issues before taking a stand.. Nyerere was also one of the founding father of the Organization of African Unity (OAU).
Jakaya Kikwete has had the advantage of working within the ruling party (CCM) and government machinery of his predecessors and thus he is well acquinted with what good governance is all about. His main challenges will be how he will proceed to fight corruption, armed robbery and avert a famine that has hit the country as a result of a long drought.
Jakaya Kikwete has outlined a ten-point Action Program that characterizes his leadership:
• Ensure peace, stability and unity
• Protect and promote the achievements of past administrations
• Carry forward the war on poverty, illiteracy, and disease with new VIGOUR, new ZEAL, and new SPEED,
• Focus on good governance and and accountability, rule of law and respect of human rights'
• Maintain law and order and protect people's lives and property'
• Secure national borders'
• Maintain good relations with all countries, neighbors, regional and international organizations
• Pay special attention to the needs of disadvantaged groups, including women, youth, children, the disabled and orphans
• Introduce new initiative on environmental conservation'
• Promote sports, cultural activities and other forms of entertainment.
President Kikwete (affectionately referred to as JK) has praised the 41 year old union between Tanganyika and Zanzibar as a shining example of practical positive steps towards African unity. Acknowledging that a few cracks on the union exist especially in Pemba politics, JK promised to develop mechanisms to speedily and seriously deal with problems related to the union. He has relieved the Vice President of the portfolio of poverty reduction to give him more time to focus on Union matters.
He sees the need to look into the union structure to ensure that it supports socio-economic development in Zanzibar without infringing on the autonomy of the Zanzibar Revolutionary Government on non-union matters.
On the steps taken by the Third Phase administration to strengthen the Judiciary, JK notes that Mkapa did a commendable job in "establishing specialized divisions of the High Court, such as the Commercial Court, and the Land Court. He said he will strengthen the existing infrastructure through employing more judicial officers, staff training, rehabilitation of court premises and building new ones.
Acknowledging that agriculture continues to be the country's mainstay of the economy, he promised subsidies and tax exemptions for fertilizers and agricultural machinery and inputs. He has also promised to better fund the Irrigation Master Plan and give it good staff to quickly increase acreage under irrigation.
On Information and Communication Technology (ICT) he observed that it was a pillar of a modern economyand that he would create a conducive environment for the introduction and use of ICT in all developmental endeavors.
In a country where export earnings only pay for one third of imports, it is imperative for JK to devise a strategy that will allow the country achieve favorable balance of trade. He sees a breakthrough in strengthening Small and Medium Enterprises (SMEs) and promoting the idea of Export Processing Zones (EPZs). Such effort coupled with improved infrastructure to allow tourism be a major source of income to the country and dig deeper into the pockets of investors who do mining in the country, the Forth Phase government of Tanzania may take us miles forward in our thirst for economic development.
JK's promise to create 5 million jobs during his term in office is achievable only if he stays focused on all-round improvement in education, agriculture and agro-processing as well as support peasant farmers, small fishermen, cattle keepers and artisanal miners.
While addressing economic issues, the JK administration will be faced with an uphill task on matters related to health; providing clean water tor all, and the tough fight against malaria, tuberculosis and HIV-AIDS. Industrial development will be bogged down by drying hydro-electric power supply sources causing a further strain on the already unbearably high costs of energy unless diversification into gas and coal as alternative sources of power is undertaken vigorously. We have on the table the Mchuchuma coal project and the Rusumo River and Stigler's Gorge hydro-electric Power Projects. These should be brought on board to supplement current power shortages that have led to rationing. The Mnazi Bay natural gas project will offer another window if concerted efforts are taken to tape this valuable resource.
More importantly, the JK legacy should be built on widespread empowerment of the people to jump into the bandwagon of economic activities through buying shares in on-going viable projects with high returns on investment and providing credit facilities for business-start-ups as well as enhance co-operative groupings for collective fund-generation to be placed in investment ventures. The gap between the "haves and poor" is growing rapidly, and Members of Parliament who are supposed to speak for the down-trodden seem to be fighting for their stomachs first. K should steer the National Assembly to a people-friendly champion of the plight of the poor rather than selfish self-centered legislators who will only work for filling up their own economic baskets.
The team of House Speaker Hon. Samuel Sitta, and the Prime Minister Hon Edward Lowassa should be supporting hands for JK's endeavors as the people of Tanzania have abundantly identified JK to be their man of the moment who can deliver!

Swallehe Msuya was a senior staff writer at Mshale with extensive media experience in his native Tanzania. He was a general assignments writer. Investigative stories that Mshale undertook were normally his responsibility. Swallehe passed away in Sept. 2009 at the age of 61. Mshale will forever miss his tenacity and wisdom.





(No Ratings Yet)


Loading...