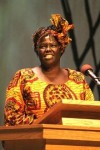 DECORAH, Iowa – Nobel peace prize laureate Dr. Wangari Maathai today said citizens of the world should hold those in power accountable for their actions towards the environment, if we are to preserve the environment for future generations. She gave the example of Americans who despite their government's refusal to sign the Kyoto treaty have with individual actions have embraced the spirit of the treaty.
Maathai, winner of the 2004 peace prize said good governance is critical to the sustaining of the environment. She told attendees at the conference numbering about 1,500 that it is the little things that they do that make a difference and they do not have to wait for the government to do it for them.
"If left alone, politicians can do almost anything if they can get away with it", she said. She was one of the keynote speakers along with former Environmental protection Agency (EPA) Secretary Christine Todd Whitman at the 18th annual peace prize forum that began here today.
Dr. Maathai who gave an eloquent speech for about an hour without notes was well received at Luther College where the conference is being held receiving a prolonged standing ovation at the conclusion of her address.
The Green Belt Movement, of which Maathai is the founder is credited with planting more than 30 million trees since its founding three decades ago.

Born and raised in Kenya's coastal city of Mombasa, Tom is the Founder, Editor-in-Chief and Publisher of Mshale which has been reporting on the news and culture of African immigrants in the United States since 1995. He has a BA in Business from Metro State University and a Public Leadership Credential from Harvard's Kennedy School of Government. He was the original host of Talking Drum, the signature current affairs show on the African Broadcasting Network (ABN-America), which was available nationwide in the United States via the Dish Network satellite service. On the show, he interviewed Nobel laureates such as 2004 Nobel Peace prize winner, Professor Wangari Maathai, the first woman from Africa to win the peace prize and heads of states. Tom has served and chaired various boards including Global Minnesota (formerly Minnesota International Center), the sixth largest World Affairs Council in the United States. He has previously served as the first Black President of the Board of Directors at Books for Africa. He also serves on the boards of New Vision Foundation and the Minnesota Multicultural Media Consortium. He has previously served two terms on the board of the United Nations Association. An avid runner, he retired from running full marathons after turning 50 and now only focuses on training for half marathons.





(No Ratings Yet)


Loading...