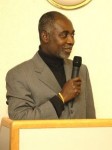 SHOREVIEW, MN Mar. 11 2006 – Nearly 200 Ghanaians gathered today at the
Shoreview
Community Center
to celebrate 's 49th anniversary. The Ghanaian Association of Minnesota (GHANAM) hosted the event themed 'Living the American Dream and Making a Difference Back Home'.
The event also honored leading Surgeon Dr. Oheneba Boachie Adjei and marked the beginning of a new era for GHANAM as a new board was ushered in.
"To know where we are going we should know where we come from," said Kwame Frempong, President of the Ghanaian Association of Minnesota during a speech in which he urged all Ghanaians to use skills and knowledge gained in the U.S to make a difference back home. The Message was further emphasized when Guest speaker and former GHANAM president, Dr. Oheneba Boachie Adjei, shared his experiences and achievements in an effort to inspire fellow Ghanaians to follow in his footsteps.
In his powerful power-point presentation Dr. Boachie-Adjei highlighted 's improvements since its independence. , according to Dr. Boachie-Adjei has come a long way since its independence in 1957. He listed many developments, such as the increase in minimum wage to $2 and the annual growth in gross domestic product (GDP). He also urged Ghanaians to take advantage of a dual citizenship law, which enables Ghanaians to have both U.S and Ghanaian citizenship he said that "this would make it easier to make a difference back home, especially at a time when Ghanaians in the diaspora have the opportunity to cast absentee ballots. He also mentioned that in a recent research led by London School of Economics professors, ranked 10th happiest place on earth and he attributed this to the Ghanaian spirit.
"We still have a long way to go," said Dr. Boachie as he listed the areas in which can improve and stressed the need for more improvements in the field of health care. "I cannot say much about the other areas," said Dr. Boachie, "but I can say a lot about the health care system in , we need help… There are less than a dozen orthopedic surgeons in , this is very serious."
As a leading orthopedic surgeon in the U.S, Dr. Adjei has engaged in advanced orthopedic and spine complex research. He used his expertise to form the Foundation of Orthopedics and Complex Spine (FOCOS) in 1998. FOCOS delivers advanced treatment and control of injuries and disorders of the musculoskeletal and spine systems in third world countries. FOCOS makes strides in bringing free and affordable, state of the art care to both the young and old of who are afflicted with deformities and disorders of the spine.
During his presentation he offered what he called his strategic plan in fighting inequalities, telling the audience not to just care but also to "turn their compassion into action…this is the most precious gift you can ever give."
The Ghanaian Association of Minnesota awarded Dr. Boachie Adjei, a lifetime achievement award. Many were moved by Dr. Boachie-Adjei's story. "I wanted to find a success story among the Ghanaians in the , and I could think of no other story better than Dr. Boachie's," said Frempong. "Many audience members came because of him, he is an incredible individual and his speech fell right in line with the goal of GHANAM this year" he said.
Frempong believes that it is important for the Ghanaian community in the U.S to realize their responsibilities back home, "through our new programs we can better facilitate this process," he said.
Audience members were later treated to a Ghanaian style dance. They also had the opportunity to network and discuss the event. Gilbert Odonkor, Alumni of the
University
of
Minnesota
and Twin Cities resident said, "the speaker was great. I really appreciated what he had to offer. We sometimes get wrapped up in our own worlds that we forget where we come from, it is important to hear such messages once in a while to bring us back to reality." Odonkor also expressed his interest in becoming a full member of GHANAM and related his decision to the satisfaction he got from the event.
According to Frempong one of GHANAM's goal is to increase its membership, "this event pulled a huge crowd," he said "we were very surprised; this is a great start to what is going to be a great year."
More images available in the Picture Gallery.





(No Ratings Yet)


Loading...