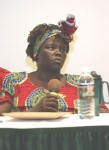 Her entrance into the University of Minnesota's Cowles Auditorium was greeted with ululation from some Kenyan women and cheers from the rest of the audience. Smiling and saying thank-you, Prof. Maathai worked her way down to the podium. The admiration and awe on the faces of the regrettably small audience was obvious.
Dr. Njoki Kamau was equally jubilant in her introduction of Prof. Maathai, "I remember Prof. Maathai coming to our school in the 70s and telling us to water our trees and our education!" she remarked. Dr. Kamau is Assistant Professor at the University of Minnesota's Department of Women's Studies at the Duluth campus.
For many Kenyans, Prof. Maathai is mostly remembered for her relentless struggles against the regime of Kenya's former president, Daniel Toroitich Arap Moi. In 1989 she challenged Moi's decision to build a 60-storey structure in Nairobi's Uhuru Park; as a result the building was never constructed. In 1990 at Freedom Corner in the same Uhuru Park Prof. Maathai accompanied other women in demanding the release of their sons who had been unfairly taken as political prisoners. When the police (who were as young as their sons) confronted them and started beating them, they stripped naked which in African terms is tantamount to a curse.
Ironically, today she finds herself becoming increasingly dissatisfied with the government of Mwai Kibaki. Late last year she turned down an appointment as Environment Assistant Minister following a cabinet reshuffle after current president Mwai Kibaki's team, lost the referendum vote on the constitution to the Orange Democratic Movement (ODM). This leaves her in an awkward position being that she occupied the post before the reshuffle and no one has replaced her to date; she explains that she is essentially a minister who has not taken her oath and this has never happened before so no one really knows how to go about the situation. Her reasons for declining the offer were not as superficial as the politics of the constitutional review and the dismissal of ODM ministers. "I like to deal with the 'root' causes – that's why I plant trees," she joked.
On a serious note, she stated that the president's failure to honor the Memorandum of Understanding (MOU) which advocated for equal sharing of power for all the parties in the opposition alliance, NARC, should they come into power in 2002 was the root cause of Kenya's political instability and eventually exploded at the referendum. "It is important that we stay on track so that we do not frustrate the confidence and hope Kenyans invested in the 2002 elections, she said." In response to a question as to whether she would be ready to run for president of Kenya, she replied that she has been ready since ten years ago when she unsuccessfully tried to run against then president Moi. She also encouraged women to join politics so that they don't complain from the outside, but go in and effect change. For now however, she hasn't set a date to take the oath as the Environment because she wants to be a constant reminder that the Kenyan government is on the wrong path.
Nonetheless it is unfair not to recognize the positive strides of the government she added. Since the government allocated 3% of revenue to the constituencies citizens have more say in development in their areas. She also reminded everyone that the fact that Kenyans could hound ministers on corruption as they are doing today, is because of the democratic space allowed by the new government.
Though many of the questions from the audience revolved around Professor Maathai's political life and insights, she is above all, a passionate environmentalist. She admits that Kenya has a good environmental policy on paper, but implementation is wanting and lack of funding means that extension services to farmers are not available. "With all conflicts there is an underlying problem of resources and the world needs to rethink security and peace," she said. She added that Africa cannot have peace without equity and ardently advocated for a stronger civil society to check excesses of governments. She pointed out the irony of people going to war over small pieces of land when desertification is taking inches of our soil every day and no one lifts a brow. "We have eyes, but we do not see!" she lamented.
In spite of the numerous responsibilities she currently holds, Professor Maathai did not pass up the invitations to be Goodwill Ambassador to the Congo Forest and the first chair the African Union's Economic, Social and Cultural Council (ECOSOC). Much needs to be done soon in Africa, which has an abundance of natural resources that are at risk of disappearing and through these positions she believes will be better situated to work with Africans to create a sustainable and secure environment.
The afternoon event featuring Dr. Maathai was presented jointly by the Kenya Welfare Association of Minnesota and Mshale Newspaper.





(No Ratings Yet)


Loading...