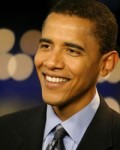 Illinois US Senator, Barack Obama will deliver the keynote address at the 29th Annual Hubert H. Humphrey Day Dinner that will be held at the Minneapolis Hilton on Saturday April 8 at 7PM. Tickets are $125. The dinner is organized by the Democratic Farmer Labor (DFL) party.
Elected to the US Senate in 2004, Obama is a rising star in Democratic circles and widely believed to be a future presidential contender. He is also a prolific fundraiser. He collected $6.5 million last year for his political action committee (PAC) called Hopefund. When he formed the PAC, he said it had the goal of "promoting the candidacies of leaders who are committed to changing the course of our nation to ensure the promise of
for future generations".
The Humphrey Day dinner is one of the high profile speaking engagements that Senator Obama has accepted in an effort to bolster the Democratic Party's coffers. The added exposure to Democrats across the country has added to the speculation that he is destined for higher office.
Born in Hawaii to a Kenyan father and American mother on August 4, 1961, Obama graduated from
Harvard
Law
School
and was the first African-American editor of the Harvard Law Review. He is married to Michelle and they have two daughters, Malia and Sasha who are 7 and 4 respectively.
Tickets for the Humphrey day Dinner can be purchased online at www.dfl.org or by calling 651-251-6380.

Born and raised in Kenya's coastal city of Mombasa, Tom is the Founder, President and Publisher of Mshale. As the founder, he did a lot of the reporting during the humble beginnings of the newspaper. While he still does the occasional reporting, he now concentrates on the publishing side of the news operation. Tom was also the original host of Talking Drum, the signature current affairs show on the African Broadcasting Network (ABN-America), which was available nationwide in the United States via the Dishnetwork satellite service. On the show, he interviewed Nobel laureates such as 2004 Nobel Peace prize winner, Professor Wangari Maathai, the first woman from Africa to win the peace prize and heads of states such as the president of The Gambia, Yahya Jammeh at State House, Banjul. Tom has served and chaired various boards including Global Minnesota (formerly Minnesota International Center), the sixth largest World Affairs Council in the United States. He has previously served as President of the Board of Directors of Books for Africa, the largest shipper of donated books to Africa. He also serves on the boards of New Vision Foundation and the Minnesota Multicultural Media Consortium. Tom also served two terms on the board of the United Nations Association. He retired from running full marathons after turning 50 and now only focuses on half marathons.





(No Ratings Yet)


Loading...