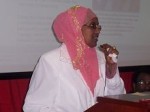 Just seven months ago, Ikran Hagi Daud Warsame was a full-time housewife and a bread-winner for her 18-member household in Borame, a remote town in the mountainous border between and . Little did she know that her next move would take her all the way to the White House for a full-fledged dinner with President Bush and First Lady Laura Bush – something no Somali president has done in decades.
Warsame, the mother of nine, made history last year when she became the first democratically elected woman to the 82-member, male-dominated
Somaliland
parliament. The only other female member in the parliament is appointed.
She explained her rapid and unlikely political ascent and described the current state of Somaliland during a March 19 meeting in
Minneapolis
with some of those who financed her campaign.
"We're in peace and prosperity, and we hope the same thing for []," she said, standing before a giant
Somaliland
flag "We need the Diaspora communities to return and invest in our country."
Yusuf Budle, chairman of Kulmiye Committee in
Minnesota
, a group of supporters from Ms. Warsame's political party and co-organizer of the event, says that they are proud of her. "We supported her campaign with money and moral." He says.
Recognizing
Somaliland
Somaliland, a breakaway enclave of , declared unilateral independence from the rest of the now-ruined republic in 1991, and maintained relative stability, good governance, and free elections. No government has recognized
Somaliland
as a nation, but the State Department has touted its model more than once.
In fact, the State Department has done more than touting by issuing Warsame's visa to the U.S on a Somaliland-issued travel document.
"That is a positive gesture," says Warsame "But I'm more concerned with introducing Somaliland to our neighbors first, then to ."
That's because when she met with a Kenyan counterpart in Washington, D.C., during a Women's Democracy Network conference early this month and introduced herself as a Somaliland MP, she received a blank stare and a painful question "Where is
Somaliland
?" And when she explained, the Kenyan MP replied "I only heard of Somali MPs staying at 680 hotel in
Nairobi
and not paying their bill!" (She's referring to the prolonged stay of Somali parliamentarians in almost two years ago.)
Warsame, out of dismay, extended an official invitation to all five delegates from Africa at the conference to
Somaliland
.
She was among 30 "accomplished women leaders" from around the world who gathered for the three-day conference sponsored by International Republican Institute (IRI) to "foster relationships" and "share experiences."
IRI, a congressionally funded nonprofit, nonpartisan organization dedicated to advancing aspiring democracies has done a "comprehensive political assessment in
Somaliland
" in 2002. Among other programs, the organization helped the parliamentary elections in which Warsame was elected.
'Kingdom of men'
To get on the ballot, Warsame had to penetrate multiple layers of social and cultural hurdles. First, she had to coax her own family to help her talk to the powerful tribal elders.
"My husband was supportive," she said "and he's the most important person."
After securing the green light from most of her family, she had to cajole tribal elders, an exclusive-men's club, to "allow" her to seek party nomination.
She got lucky.
But then, her party, Kulmiye, the main opposition party, had to assess the risk involved, provided that they desperately wanted to control the parliament and couldn't afford to lose her seat.
She got lucky, again. Or so, she thought.
Just after she was cleared to put her name on the ballot, conservative clerics intervened, citing a revelation banning women from assuming high public office. But moderate clerics came into her defense, though they reiterated that women can't run for president.
Finally, she had to convince the largest and the most skeptical group of people: the voters who never experienced something quite like this. Warsame, a former teacher and a caretaker of two orphans and five disabled children, said that she turned to the people she built a rapport with: women and youth.
"I focused on the youth and told them to vote for me since only 35 years and older person could run," recalls Warsame, "and I think they did vote for me."
On election day, the unexpected happened; Warsame survived what she characterizes as the "kingdom of men" and became the first elected woman in Somaliland and, perhaps, some say, in the entire history of greater .
"She is a trailblazer." says Osman Sahardeed, chairman of Somali American Democratic Association.
Even after becoming a busy legislator in Hargeisa, the capital of
Somaliland
, Warsame allocates time to mother her relatively young children. On Wednesday evenings, the start of a weekend in that part of the world, she commutes three hours back to Borame over extremely rough roads.
Political ambitions
Warsame, who serves on the rules and regulations committee of the parliament, says her biggest political ambition is conducive to restoring women's rights and family justice.
"I'd like to end the guilt-assumption of women at court of justice and in the society at large." she says. "Quite honestly, I'm fascinated with the betterment of women."
So fascinated with women that she is a reminiscent of Arraweelo, a feminist medieval queen who took over reigns of power from unscrupulous men and reduced them to render household services while establishing a women-dominated monarchy in what is today.
Before returning to
Somaliland
later this month, Warsame has speaking engagements lined up for her in Chicago and Columbus on an itinerary that included Washington and Dallas.

Abdi Aynte was a news reporter for Mshale in his early journalism years. After a stint at Mshale, he moved on to the BBC, Voice of America and eventually relocated to Doha to join Al Jazeera. After leaving Al Jazeera, Aynte moved back to his homeland of Somalia to become the first Director of newly formed non-partisan Heritage Institute for Policy Studies (HIPS).





(No Ratings Yet)


Loading...