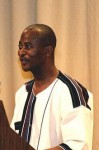 "Dawn is approaching in Africa, Daylight is approaching in Africa".
These were the words of guest speaker and Minister of Labor in the new Liberian government Samuel Kofi Woods as he addressed a packed ballroom at the St. Paul Student Center on Saturday. African Nite, hosted by the University of Minnesota's African Student Association brought together a diverse crowd of people to celebrate and honor the cultural richness of the countries on all corners of the continent.
Those in attendance enjoyed a program centered around the theme "Africa Today". Each act received loud applause and cheers from the audience, with a level of energy and enthusiasm that they maintained throughout the evening.
Seyon Nyanwleh reported that this year's attendance was much higher than last year's 500. Titi Solarin, mother of two University of Minnesota students said that the attendance "attests to the fact that Africans are united and in peace and freedom."
"This is a great way for all countries in Africa to be represented. It helps us realize how similar everyone really is", said Sam Adegoke, a graduate from the University of Minnesota who came to support his friends and take part in the fashion show.
To go along with the night's theme, the fashion show included current styles most popular in the countries students represented. Models strutted across stage as each flag was cast on a screen behind, eliciting loud cheers from the audience – a show of solidarity and support between students from each country.
"It would be hard to get this many people for any other event," remarked Global Studies and French student Iman Mefleh. "It's important to participate in something different; it's important that people of other cultures attend this event, not just Africans," she said as she waited in line for food. A variety of dishes from East and West Africa were served – fried plantains and gravy, jollof rice (fried rice), and puff-puff or Kala which is made of flour, yeast, and sugar. Although each guests' dinner plate consisted of items from several regions of the continent, the food was "common to all of Africa," according to Seyon Nyanwleh, president of the African Student Association.
Within the diversity of dishes in the menu, garments on the runway, and acts in the program, there remained an underlying sense of unity that tied each individual together. "When I look around all I see is Africans – the difference lies in how and when we arrive on these shores," Samuel Kofi Woods said, reflecting on the Pan-Africanism and solidarity he saw at African Nite. One Psychology student originally from Somalia, who declined to give her name, said that it reminded her of home and it made her "feel good to see all these people from Africa. Different cultures and languages, but it's still
Africa."
"I am continually impressed with the (level of) energy and organization," commented August Nimtz, a professor in the Political Science department as he was leaving at the end of the evening for the third year in a row. "I am struck by the unity of the people here and the pan-African character of the event is impressive," he added.
Looking beyond the atmosphere of solidarity and celebration, Global Studies student Lily Shank believed that African Nite was an important event for the University. ""It's an amazing expression of all the diversity at the University of Minnesota. The University is enriched by people bringing and sharing their cultures."
Titi Solarin said that she really appreciated seeing students coming together to celebrate their heritage and celebrate their freedom. "It's of great value to do this."
As a minister in Ellen Johnson Sirleaf's new government in Liberia, Samuel Kofi Woods' human rights work is an example of the positive gains and hope for the future, which he stressed during his speech on Saturday. Expressing his faith in the students, Woods said that "This generation has the key. You are the new hope of the African Renaissance."
Visit the picture gallery for images from the U's African Nite.





(No Ratings Yet)


Loading...