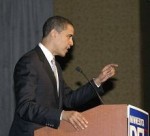 US Senator Barack Obama wowed Minnesota yesterday when he visited to keynote the sold-out $125 per ticket Hubert H. Humphrey Day Dinner, a fundraiser for
Minnesota
's Democratic Party (DFL) and to campaign for Amy Klobuchar who is running for the US Senate to take over from fellow Democrat Mark Dayton who is not seeking reelection.
Obama, who enjoys near universal appeal and gets 300 speaking invitations a week, drawing large crowds in the process, said Saturday that the ballooning federal deficit is a reflection that there is a "lack of adult supervision in
Washington
" and called it untenable.
Minnesotans got a taste of the Obama magic Saturday and insight as to why there is so much talk of a future presidency by this son of a Kenyan father and Kansan mother. Senator Mark Dayton, who introduced him at both the afternoon rally for Klobuchar where Obama began his day in Minnesota, did not bat an eyelid when he referred to him as the future president of the
. At the Humphrey dinner,
Dayton
told those attending to go and tell others they had dinner with the future president.
18-year old Jackie Stahlmann, a senior at
Cooper
High School
in
New Hope
, will be voting for the first time this November. She said her main draw to the Klobuchar rally was Obama. She decided "a long time ago" that she was going to vote for Klobuchar "because she will push for our rights", she said. But for this Saturday afternoon, she was unlikely to have come to the rally but Obama was definitely a draw "he is just awesome", she said.
Over 1,500 people including about 50 Kenyan-Americans attended the afternoon rally for Amy Klobuchar at the
St. Louis Park
Middle School
gymnasium. Senator Obama received a loud celebrity welcome with his entrance and after speeches by Amy Klobuchar and a welcome speech from Mark Dayton, he took the stage. After calming the excited crowd, he then quickly demonstrated why some believe he is presidential material with his ability to quickly connect with the crowd.
He said at the rally that the despite the differences that Americans have had with each other in the past, there has always been a sense that "we are in this together" and that unfortunately the current administration ahs managed to shake the faith of the American people leading to the current cynicism about government that is prevalent.
He drew laughter at the dinner when he said he recalled President Bush saying in the 2000 election that he did not believe in nation building, "we just didn't know he meant this country." He said the attitude of everyone for himself that the Republicans are currently pursuing by trying to bankrupt the government amounts to social Darwinism which he said ignores the history of this country. Senator Obama also drew a picture of past Democratic successes such as putting a man in the moon, the new deal and the successful execution of the Second World War. He said the Democratic Party is the party of opportunity and its agenda is 's agenda as well.
Amy Klobuchar drew laugher from the crowd as well by saying that the Medicare Part D bill that has proven frustrating for many seniors got the grading it deserves from the beginning – a D. She said she feels the spirit of change coming to .
Senator Dayton said Amy has proven herself by her lifelong commitment to public service. Senator Obama said at the rally that Amy Klobuchar reflects the decency of America and chalked up some of her past successes and added that "there is no doubt that Amy is going to be an outstanding senator, the only question is how inspired are you to get her there." He urged the partisan crowd to make sure they sign up as volunteers for the campaign. He said sending Amy to
Washington
will help achieve the Democratic agenda.
After the rally, about 30 Kenyans lingered outside and had their own rally to discuss how to get involved in this year's election. Among the African immigrant community, Kenyans have a special fondness for Obama given his ancestry and commonly refer to him as "our son" or "our brother". There were speeches from community leaders such as Paul Morande of the Nyagetinge Association of Kenyans in Minnesota and Ferdinand Obure, a former Member of Parliament in who now resides in the Twin Cities. Judy Reinehr, a community activist and Klobuchar supporter has lived in in the past and was at the impromptu rally. She told everyone to get involved. Nimco Ahmed, the Klobuchar campaign Field Director was present and quickly signed up volunteers. A Somali-American, she is the only African immigrant so far this election season in
Minnesota
holding a key position in a statewide race.
The Minnesota US Senate race has attracted national attention because of it being an open seat and its potential to determine control of the Senate. Mark Kennedy is the frontrunner in the Republican side. Among those that have headlined his fundraisers have included Vice-president Dick Cheney.
The Humphrey Dinner which drew about 2,000 people according to DFL officials is the biggest fundraiser for them each year, and with Obama's attendance yesterday, they were hoping to raise between $100,000 to $200,000.
Check out the Photo Gallery for pictures on Obama's visit to
Minnesota
.

Born and raised in Kenya's coastal city of Mombasa, Tom is the Founder, Editor-in-Chief and Publisher of Mshale which has been reporting on the news and culture of African immigrants in the United States since 1995. He has a BA in Business from Metro State University and a Public Leadership Credential from Harvard's Kennedy School of Government. He was the original host of Talking Drum, the signature current affairs show on the African Broadcasting Network (ABN-America), which was available nationwide in the United States via the Dish Network satellite service. On the show, he interviewed Nobel laureates such as 2004 Nobel Peace prize winner, Professor Wangari Maathai, the first woman from Africa to win the peace prize and heads of states. Tom has served and chaired various boards including Global Minnesota (formerly Minnesota International Center), the sixth largest World Affairs Council in the United States. He has previously served as the first Black President of the Board of Directors at Books for Africa. He also serves on the boards of New Vision Foundation and the Minnesota Multicultural Media Consortium. He has previously served two terms on the board of the United Nations Association. An avid runner, he retired from running full marathons after turning 50 and now only focuses on training for half marathons.





(1 votes, average: 5.00 out of 5)


Loading...