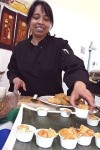 Yumna McCann sat at home, missing her mother dearly. She wanted a taste of her mother's cooking. She wanted something different than the American food she was trying to get accustomed to. She craved the cardamom-fried rice, she craved the fried salmon topped with lemon curry sauce and the spicy potatoes. But she ached for nothing more than the meat and veggie pies Mama used to bake. Then it occurred to her that she could attempt to bake them. After all since she was a 5-year-old girl growing up in Cape Town, South Africa, she had been watching her mother cook.
That was in 2001. She started baking pies.
"The thing with pies is that you can't just bake one," said McCann.
So she baked them by the dozen. The pies are filling. So satisfying are they that she couldn't finish one, let alone a dozen. McCann decided to share her pies with her neighbors and friends. Soon, she was baking and baking and baking to cater to them.
More than five years later, McCann is still baking. Only this time she is baking for the San Francisco Bay Area. And, she wants to get paid for her labor.
McCann is one of the low-income immigrant women who have found a home at La Cocina — Spanish for "the kitchen," — in the Mission District of San Francisco. The nonprofit organization provides low-rent commercial kitchen space for talented immigrant women and women of color who cannot afford to start their own businesses. The clients, mostly women, pay $15 for every hour at the kitchen. In turn they get a 2,200-square-foot sanitary and licensed place to prepare food, commercial standard equipment, and training on how to start and manage small businesses.
The idea arose out of a Women's Foundation of California 1999 study that revealed that lack of capital was inhibiting the progress of low-income women, says Program Manager Laurie Mackenzie.
Mackenzie said many of the women La Cocina mentors were cooking food in their homes and selling to neighbors, churches, friends, construction sites and makeshift cuisines. In many areas, conducting such business is illegal. Mackenzie, a former chef herself, says low-income people attempting to launch their own businesses find themselves in competition with people who have more money and education than they.
"We're trying to even the playing field for those [low in-come] people because it does take such a huge amount of money to invest in a commercial restaurant or food facility," said Mackenzie. "We're trying to provide them with access to facilities as well as helping them understand how to navigate the permitting process, the laws and all those things that they have to know to be in the food business."
La Cocina is still a work in progress. The kitchen has been in operation since 2005. It's too early to measure its success, said Mackenzie. But the fact that the women who cook there have been able to legitimize their businesses is good news, she said.
Aside from mentoring chefs, Mackenzie said, La Cocina's goal is to bring authentic foods to the Bay Area.
Indeed, there is authenticity. There are women from, Chile, China, Guatemala, Mexico, and a man from the Philippines, among others.
Like all the women at La Cocina, McCann has a strong sense of entrepreneurship and a drive to succeed. She has since started a catering business, Mystipies. Last year at an expo for food business owners who might be interested in buying food from La Cocina clients, San Francisco Mayor Gavin Newsom got a chance to taste McCann's pies after she squeezed through a crowd, tray in one hand, to reach him. McCann's husband took a picture of Newsom with the mayor's hand over his mouth. It was the best pies he had ever tasted, he reportedly said.
"I told my husband, 'If you don't get the picture, don't come home,'" McCann said, as she laughed recalling the incident.
McCann said the industry-standard equipment at the kitchen allow her to cook more than she can at home. She is able to bake up to 600 pies at a time, compared to 25 or so in her home oven.

Her business is growing faster than she expected. During this year's La Cocina expo held in March, McCann stood behind her table handing out samples of her pies. Her chef's attire was black; the other chef's wore the traditional white. She served veggie curry, chicken curry, beef curry and chicken and mushrooms pies.
The pies have a unique taste and a soft crust that does not crumble. Most of the people who tasted them said they had never tasted anything similar. Dave Haase for example, had been standing in front of McCann's table for a while, tasting sample after sample.
"The best part is this crust," he said pointing at one of two whole pies that are on display. "It's so… so flaky and crispy, so delicious, which is why I have been standing here for 15 minutes."
Out of the expo came more potential customers. The manager of Rainbow Grocery, a local independent store gave her an appointment for a possible contract to supply the pies. She has since been delivering 50 pies there every day and they have all sold out.
More businesses have also expressed interest. Gabriela Lozano, a local café owner, did not have to think twice about retailing McCann's pies.
"More that anything [what's impressive] is the flavor," said Lozano. "The taste is amazing."
If there is any doubt about how unique McCann's pies are, ask Amy Sherman, a long time San Francisco food critic. Forbes.com voted Sherman's blog one of the top five food blogs in the country.
"I haven't tried something particularly like that," Sherman said about the pies. "Anything that is new and different is going to be of interest. I thought the product was quite good."
Is McCann prepared should the demand for her pies increase?
"I'm ready," she says without hesitation.
Edwin Okong'o is a Mshale Contributing Editor. Formerly he was the newspaper's editor.





(No Ratings Yet)


Loading...