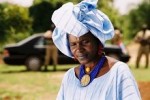 The Walker Art Center in Minneapolis has announced its latest edition of Global Lens: Films from the Global Film Initiative. As part of the series, two films from Africa are included.
Challenged by economic hardships, emerging filmmakers from developing countries have found consistent support from the Global Film Initiative (GFI) through grants and distribution. A nationally touring program of GFI-funded projects, the Global Lens series showcases films that address such issues as the fight against patriarchy, class conflicts, and political struggles as well as universal concerns that help to provide cross-cultural understanding.
The series features evening and special daytime screenings for students, including both dramas and comedies with engaging characters telling stories of life in unsettled times.

Global Lens features films from places as far-reaching as Burkina Faso, Israel, Brazil, China, Iran, South Africa, and India, among others.
Acclaimed films in the series from Africa include The Night of Truth (La Nuit de la vérité) directed by Fanta Régina Narco from Burkina Faso, Max and Mona directed by Teddy Mattera from South Africa.
Ticket prices are $8 and $6 for Walker members. Call 612-375-7600 or visit their website at www.walkerart.org/tickets.
The Walker also has free Global Lens screenings for students to help "provide deeper student engagement with contemporary films, cultural perspectives, and world events," according to the Walker. Teachers can schedule a preview by calling 612-375-7614. More information for educators is also available online at www.globalfilm.org/education.htm.





(No Ratings Yet)


Loading...