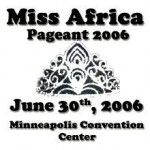 On June 30th, T&J Entertainment in conjunction with Kilimanjaro Entertainment will host Minnesota's first Miss Africa beauty pageant at the Minneapolis Convention Centre.
JC of T&J states that an event of this kind has been long in the waiting, "We have a large immigrant community here and just as there is a Miss Hmong Minnesota and a Miss Latina Minnesota there should be a Miss Africa Minnesota". Last year various African communities like Cameroon, Liberia and Uganda hosted beauty pageants, with T&J organizing the Liberian event.
Both T&J and Kilimanjaro are African entertainment promoters. T&J organizes events mostly for West African communities and Kilimanjaro's specialty is the East African communities. Early this year they teamed up to bring African entertainment to downtown Minneapolis through "Klub Afrika", a night of African dance music, every Sunday at the trendy Spirell Bar. Their collective backgrounds in hosting events have been a recipe for success with Klub Afrika and the duo has decided to move on to the next step.
"The Miss Africa Minnesota beauty pageant is part of our effort to promote a positive image of Africa and the African community by increasing our presence downtown," says JC. "We are no longer an invisible community, we need to garner the attention of mainstream America," he adds.
So do you have what it takes to be an African Queen? Interested candidates can contact JC at 763-442-945, George "Jojjo" Ndege at 612-382-1549. More information is also available at www.kilimajaroetertainment.com .





(No Ratings Yet)


Loading...