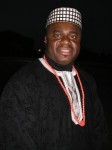 The Chairman of IgboFest 2006, Prince Jon Uche Ezeagwu has promised Minnesotans and other guests who will attend this year's event on Saturday August 12 at the out-door grounds of the University of St Thomas, in Staint Paul to expect a package that will outshine last year's celebrations.
During an interview with this reporter, Prince Ezeagwu said that among the highlights this year will be a symposium on the subject of Culture and Democracy in a Revolving Globalised Vllage to be graced by Illinois Senator Barack Obama. Ambassadors from African nations, local dignitaries including Governor Tim Pawlenty, Senators, MN Secretary of State and traditional African Kings will also attend.
Participants at this year's cultural event will also be able to experience three days of cultural exhibitions, a career day workshop for students and enjoy the exotic music of one of Africa's topmost musicians Awilo Longomba and his legendary hip-shaking dancers who have mesmerized audiences across the globe.
The week-long IgboFest will also include a study tour to Minnesota's historical, scientific centers, the zoo, state capital, city council and a number of prominent corporate business centers. Prince Ezeagwu explains: "our goal is to bridge the political, cultural and economic gap between the United States and Africa."
This year's IgboFest is the 12th annual event in a row that has enabled the Igbo people from Minnesota to become the focal point of one of the greatest and best cultural showcase event in North America. The festival is a baby of the Umunne Cultural Association of Minnesota and this year's theme is: "Our Youth, Our Culture, our Heritage"
The Igbo people who hail from South East Nigeria and account for about one third of Africa's most populous state (Nigeria) of 120 million people; are often regarded as "The Jews of Africa." They have earned this name because of their industriousness, commitment, drive and upward mobility that enabled the achieve the hard way "like turning around a desert into arable land'; so asserts Prince Ezeagwu.
Prince Ezeagwu says: "Come with your entire family, friends, well-wishers, neighbors and anybody you can bring along to IgboFest 2006 and you will agree with me that this is an event to be remembered. If you think you saw the best last year, come again this year and you will be even more impressed."
In reference to AGOA protocol that allows sub-Sahara African goods to enter the US market duty free and quota free, Prince Ezeagwu said "we wish to connect business people from Africa with opportunities in the USA and forge better economic relations for our two continents."
Prominent activities at the cultural event will include the traditional breaking of the benevolent kolanut, the mystic masquerades, a fashion show, art exhibitions, African costumes and food, and traditional dances from Nigeria, Canada, several African states and invited groups from various states of America.
The inspiration to launch IgboFest 12 years ago came from a visit by the first President of Umnne Cultural Association of Minnesota to a native American cultural activity that impressed him so much that he convinced his non-profit organization to start one of their own. They have come a long way and now they have an Igbo school in Minnesota that teaches young Igbos who are born in America the Igbo language, culture and traditions.
If the Igbos can organize and put a show annually that has now become the talk of Minnesota, the challenge to other African nations is to follow the footsteps of our African big brothers and do the same.

Swallehe Msuya was a senior staff writer at Mshale with extensive media experience in his native Tanzania. He was a general assignments writer. Investigative stories that Mshale undertook were normally his responsibility. Swallehe passed away in Sept. 2009 at the age of 61. Mshale will forever miss his tenacity and wisdom.





(No Ratings Yet)


Loading...