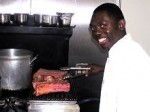 "She said, 'since I'm having boys, I'm not going to die cooking for you guys, you're going to learn how to cook!'" Steven Kaggwa tells me as we sit in his restaurant. He's speaking of his mother who raised five boys and one girl in Uganda.

The skills Kaggwa learned, then practiced while a cook at a local Indian restaurant and more recently at Global Dish, which is now defunct, have served him well. Along with his business partner, Ismail Mawanda, Kaggwa opened Tam Tam's African Restaurant on July 10th, 2006.
Because their food license came first, with an anticipated liquor license to arrive before the summer's end, Tam Tam's started up with a soft opening. "We didn't promote," Kaggwa says, but when the beer and wine license comes through, they plan something big, with fliers announcing the grand opening. Until then, Kaggwa says, "we didn't want to be overwhelmed in the beginning so we thought, let's go slowly, learn from our mistakes."
Kaggwa didn't start out as a restaurateur, however. "I went to college in Uganda, graduated with a major in business. I looked at these numbers on the screen, and thought, I'm not going to have my life looking at this screen all the time. So I had to look for something that made me happy. I needed to do something other than numbers and screens and machines," says Kaggwa. Then another idea came to him. "I can try cooking. Cooking is my hobby."
His hobby turned vocation seems to suit him well. "It feels better to know that you own your own business. But of course that comes with a lot of challenges. I don't work less than 12 hours a day. I can't say, 'I'm not going to do it," Kaggwa chuckles.
On his list of potential hot issues Kaggwa lists, "dealing with people, dealing with employees, different people, different backgrounds." But he finds the work rewarding. "It's exciting, sometimes stressful, but I wouldn't trade it for anything else. To know that I'm doing something for myself, to wake up in the morning, knowing I'm going to open that restaurant up," makes it all worth the effort, Kaggwa concludes.
My daughter and I visit Tam Tam's, Swahili for something sweet, on a Thursday afternoon. There is one other customer seated when we arrive. Kaggwa greets us warmly and leads us to a spot by the windows. I note the wooden sculpture displayed on small shelves along the four melon-colored walls. With pleasure, I comment to my daughter about the mother-child giraffe figure above our table.
The temporary menus list both lunch specials as well dinner fare. I look over all the dishes and request some recommendations. Kaggwa and I finally decide I might like the chicken stew with ugali (corn meal, a staple in East Africa) and chapati (a type of roti) and a side of greens. My vegetarian daughter chooses lentil sambosas and injera (pancake type bread from Ethiopia) then pleads for mango ice cream as well.
As we sip our lemon-flavored water, Zairian soukous plays over the restaurant's speaker. Another customer walks in as the music changes to a new African genre. From the back of the restaurant I hear other languages flowing, infusing the atmosphere with an international flavor.
"It makes a lot of importance to me having an African restaurant. It took me two years of planning, thinking, doing research, but there was a missing link," says Kaggwa. "There's nothing (in the Twin Cities) really specifically African. There's Liberian, Nigerian, Ethiopian, but not African."
The menu reflects Kaggwa's emphasis on presenting the whole of Africa's culinary delights. Dishes from the East, West, Central and the Horn are featured. Kaggwa says that the strict dietary laws of the Muslims in North Africa however dissuade him from offering that region's cuisine.
My daughter and I are both quite pleased when our food arrives. As I eat my drumsticks swimming in a spicy, red-flecked sauce, I can imagine how this meal certainly does look like some mother's homemade cooking. It's not fancy or ornate, but served with an honest appeal, one that invites me back for more. Besides, the mango ice cream is delectable.
Situated at 605 Cedar Avenue along the south edge of the West Bank, along with its huge mix of immigrant population, Tam Tam's seems destined to satisfy both the appetites of it's customers as well as the ambitions of it's owners.
Susan is based in Minneapolis and reports on general assignments for Mshale with a focus on entertainment. In addition to reporting, she is also a writer, poet, teacher and coach.





(No Ratings Yet)


Loading...