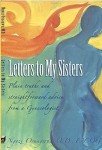 Book Review
TITLE: Letters to My Sisters
AUTHOR: Ngozi Osuagwu
PUBLISHER: Ben Bosah Books, New Albany, OHIO
Reviewed by: Swallehe Msuya
Candid Gynecological Advice to Women
`
A certified yoga instructor and obstetrician-cum-gynecologist, Dr Ngozi Osuagwu grew up in New York and attained her medical credentials at the Johns Hopkins University and State University of New York at Buffalo. She has written a series of letters to fellow women (published in this book) addressing issues that connect with all of their gender as far as understanding their own bodies intimately is concerned so that they can live healthy lives.
The author is a Fellow of the American College of Obstetricians and Gynecologists now living in Columbus Ohio where she teaches physicians and maintains a small private practice. In this book, she has selected common issues that prompt women to seek an appointment with a doctor and passionately talks to the women briefing them what they should expect to hear from their physicians.
The author takes quality time to discuss common medical conditions that affect women. She provides an overview of sexually transmitted diseases and a list of Internet resources and web sites that readers can log into to access reliable and in-depth information about various medical conditions that affect women and how they are treated.
The mission of this book is clearly explained in the Prologue. It reads: "I hope that this book will be able to prevent some medical conditions from developing, thus eliminating the need for a visit to a doctor's office. Prevention really is better than cure."
However articulate we may be in preventive healthcare, it is impossible to eliminate the need for a visit to a doctor, so this book will help readers to better describe their symptoms and be able to ask pertinent questions. For indeed the more knowledgeable women are about their bodies, the more equipped they are to use the tools in hand to make correct decisions on their life-styles that are important to ensuring their well-being.
Very eloquently, the author sums up the medical profession in these poetic words: "An inquiring, analytical mind; an unquenchable thirst for new knowledge; and a heartfelt compassion for ailing – these are prominent traits among the committed clinicians who have preserved the passion for medicine." Indeed the quotation correctly reflects the central message in the book, be knowledgeable and live healthy!
Sexually transmitted diseases such as chlamydia, gonorrhea, herpes, hepatitis B, HIV/AIDS, human papilloma virus, syphilis, and trichomoniasis, are among the STDs discussed briefly in this book. Other diseases are only mentioned and references of web sites that can be accessed to learn more about them are provided in the book.
The book is a must read for all women because as it is pointed out in the text, a woman's health is her capital.
The book is available at major book stores such as Barnes and Noble, Borders and Amazon.

Swallehe Msuya was a senior staff writer at Mshale with extensive media experience in his native Tanzania. He was a general assignments writer. Investigative stories that Mshale undertook were normally his responsibility. Swallehe passed away in Sept. 2009 at the age of 61. Mshale will forever miss his tenacity and wisdom.





(No Ratings Yet)


Loading...