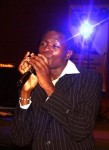 It's been decades since I last heard Muhammad Ali extolling his own virtues. "I am the greatest; I said that even before I knew I was. I figured that if I said it enough, I would convince the world that I really was the greatest."
Now that I've met Roy Kapale, Ugandan musician of Souca, Lingala, and Afrobeat music, I've met a self-promoting person who just might have the same uncannily accurate sense of himself.
"No one can sit still when I'm playing. I don't bore people; they never get tired of me when I am on the stage," insists Kapale. For those who attended Ugandan North American Association's 2005 convention in Minneapolis, UNAA's 2006 convention in New York City, or stopped at the Turf Club in St. Paul for Kapale's recent local gig, you certainly saw the man in action.
Kapale started in music in grammar school. Receiving a bursary from the Royal College, he moved up until cutting his first single, Mukylala Neighbour. The twenty six year old became increasingly popular when his song was made into a music video by Peter Ntende. Ntende, a Ugandan music promoter based in Denmark, founded his company to help artists such as Kapale create affordable videos at international standards. The company, called Nyonjo Video Production Studios, is based in Kawempe.
With the release of Kapale's second album, Ebitaala Bintadde, his fame took hold within the Ugandan music community when it earned a Pearl of Africa (PAM) music award. Currently Kapale is producing his third album, which he composes and creates, titled Manifesto.
"Music is my life," Kapale says from the living room of his North American agent, Francis Ssenoga, in Minneapolis. "Music is the best way to make reforms in the world. When I see problems facing people, I can sing about that," Kapale says.
And as Kapale has learned from greats such as Awilo Longomba from the Congo and Werrason, also a Congolese musician, so he hopes to influence children who are just starting to open their eyes to the world.
Kapale is ambitious. He role models his drive with his far-reaching goals. "I'm targeting to get the Grammy Award and the Kora Award. That's my vision. I know I will (achieve it) someday. I will."
Susan is based in Minneapolis and reports on general assignments for Mshale with a focus on entertainment. In addition to reporting, she is also a writer, poet, teacher and coach.





(No Ratings Yet)


Loading...