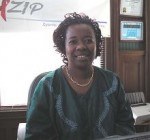 A grand opening ceremony to launch ZYOMBI International Project, Inc (ZIP) took place on Sunday afternoon September 24 at their colorful offices on Franklin Avenue/ 1931 1st Avenue in Minneapolis. The official launching ceremony that included cutting a ribbon, music, food and refreshments served to guests was led by a representative from the Minnesota Department of Health (MDH) Gary Novotny.
The Executive Director of ZIP, Cameroon-born physician Alvine Siaka told a gathering of invited guests and Board Members of the non-profit that their educational endeavors on HIV-AIDS reached 900 people last year. She added that this year, from July another 1,000 people in the Twin Cities and in the Minnesota suburbs have been served through AIDS and hepatitis C education, counseling, free testing and referral.
ZIP enjoys the support of Clinic 42 in Abbort Northern Hospital, HCMC, Regent Hospital International Clinic and a host of instructors, volunteers and physicians. Services offered include free HIV and Hepatitis C testing, AIDS education and counseling. Plans are underway to launch an African food shelf to serve immigrant populations from Africa with the infliction of the pandemic with African cuisine.
Alvine Siaka said it was through building a relationship of trust with patients and exercising maximum confidentiality that they are able to get people to respond to their call for HIV testing. She has a 10-year experience of outreach work in HIV cases both in Cameroon and in Minnesota.
A diverse team of six Board members that include a lawyer, a Representative of the Minnesota House, an Accountant and ex-Executive Directors of various reputable institutions provide the backbone support for the non-profit. Ms Siaka is very proud of this energetic team that is giving so much of their time and energy in the service of ZIP and the African immigrant population that is disproportionately affected by the pandemic.
Ms. Siaka who uses her own car in doing office work for ZIP has appealed to donors to step up support for ZIP alongside the Minnesota Department of Health (MDH). A pharmaceutical company and MDH –the current funding agencies – need other donors to come forward so that her non-profit can reach out to more communities and help contain the spread of the pandemic.
Donations to ZIP are tax-exempt and donors who wish to make a contribution should contact the Executive Director at P.O. Box 80353, Minneapolis, MN 55408, or by telephone # (612) 229-2679. The non-profit is accessible on line through www.zip-project.org and their Email address is: zyombiproject@yahoo.com
There are unconfirmed reports circulating that another Cameroon sister named Ms Siona Nchota, a resident of Minnesota is a founder-member of ZIP and has been side-lined by the present management team and will seek legal remedy for what she regards as a coup-de-tat of her organization.
The word Ziyombi is borrowed from the Cameroon tribal language of Bafu and it means literally "Open your eyes" to see the world (of AIDS)!

Swallehe Msuya was a senior staff writer at Mshale with extensive media experience in his native Tanzania. He was a general assignments writer. Investigative stories that Mshale undertook were normally his responsibility. Swallehe passed away in Sept. 2009 at the age of 61. Mshale will forever miss his tenacity and wisdom.





(No Ratings Yet)


Loading...