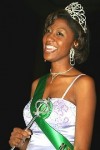 Atlanta Pageant Benefits Orphanages
ATLANTA – Under vibrant lights beauty and grace lined the stage as Miss Zambia International held its first annual pageant on Oct. 28 at the Georgia International Convention Center.
Seven ladies competed for the coveted title and Miss Nakabinga Katadula walked away with the crown. She has readily embraced the title and the commitments that it entails.
"I am excited to begin reaching out to the less fortunate children of Zambia and getting in touch with people who are already helping," Katadula exclaimed. "I have always been passionate about helping people. This [opportunity] will help me get my foot in the door," she continued.
The event, which raised $1550 in donations, was crafted by founders Margaret Phiri, Aretha Sisa and Mutinta Mazoka-Cliatt in an effort to gain support for two orphanages in Zambia: The Marian Shrine Orphanage and Ubumi Children's project. The founders were all very pleased with the outcome of their first major event.
"I have absolutely no regrets," Phiri beamed.
With hands over their hearts and the audience following in tow, The Ngosa Brothers gave a soulful rendition of the Zambian national anthem which commenced the evening with a mood of unity and pride. They also entertained the audience with a mixture of gospel and contemporary performances.
Through out the night music was only one of the many facets of the affair. The pageant also consisted of a showcase of traditional African attire, a designer showcase and a talent showcase.
During the talent segment contestants showcased a variety of skills. Progress McCarthy sang her version of "Killing Me Softly," third runner up Sara Pandor danced across the stage in a red flowing sari and winner Katadula delivered a spoken word piece on Zambian pride.
Contestants also provided thoughtfully constructed responses during the question and answer portion. Second runner up Mwiinga Lishebo said education is imperative to solving the aids crisis that afflicts Zambia and many other African countries. She also said that children must receive education comparable to that of the western world in order to compete in today's society.
Although there could only be one winner, other contestants were proud to be a part of the celebration and some even pledged to still lend aid to the cause.
"I will reach out to the orphanage even though I did not win," Pandor said.
Another act was Zambian singer Danny, who made his debut in the United States and gave several energized performance that brought the crowd to their feet
Guests came from as far as California and New York for the event and to show support.
"I loved it," said Nachumi Yambala, who has been living in New York for the last three years and is From Zambia. "I heard about the singers first, but it's also for a very good cause,"

Many in the crowd complained that the event started extremely late. Though scheduled to begin at 6 p.m. the hosts did not come on stage and get things underway until 8:45 p.m. However co-founder Phiri said they wanted to allow time for guests to enjoy the refreshment, visit the vendors and mingle. Her plan for the next pageant is simply put, bigger and better.
"I would like to broadcast to different parts of the world and open up the competition to expose more Zambian businesses," she said. "I'm looking forward to having a Zambian expo."
Phiri said Atlanta would have the first option of hosting the next pageant but they will not limit themselves.
Co-founder Aretha Sisa was also pleased with the turn out is looking forward to sharing their continued success.
"Next year we want to sponsor four orphans to enjoy the event," she said. They are planning to hold an essay contest and choose the four best ones. Sisa also advised that the first order of business for Miss Zambia is "to make sure that our commitment to our cause is fulfilled, then what ever her [Miss Zambia] passion is we will do all we can to advance it."
The Miss Zambia International Organization (MZI0) was founded in 2005 to empower youth through education and to share the Zambian culture and arts with the world.
Sharon Ochoa is Mshale's correspondent in Atlanta. She is a general assignment correspondent covering the southern region





(No Ratings Yet)


Loading...