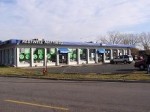 African Food Market's owner, Kwaku Addy, has closed on a deal and bought a facility in the City of Crystal that he plans to move to by years end. After plans to build a brand new facility in Brooklyn Park fell through, Mr. looked for alternatives within that city and adjoining cities before settling on Crystal. "This is an opportunity (the location) that presented itself that was hard to ignore", an excited Mr. Addy told Mshale at the site of his future location. Hennepin county public records show the property is already registered to him and the county assessor pegs its value at $800,000.
His current store located in the bustling Zane and Brooklyn boulevard area in Brooklyn Park is a community institution that has been crying out for bigger quarters. His store serves the dual purpose of a food market and gathering place. He started the store in Minneapolis in the early 1990s and by the mid 90s had moved to its present location in Brooklyn Park. Since then it has seen explosive growth and its cramped state had become evident.
Mshale first reported on Mr. Kwaku's expansion plans in the 2004 edition. Back then, he unveiled plans for a multipurpose African mall that was in addition to a food market was also to offer office and retail space for other to rent. However, Brooklyn Park's refusal to zone the 85th and Noble property as a commercial property hindered construction from taking off to house the future African mall.

An ebullient Mr. Addy told Mshale that a $1.5 million loan facility from Mainstreet Bank and the Small Business Administration has made it possible for his dream to come true. At 13,500 square feet, the store represents a major expansion for African Food Market and easily makes it the largest African grocery outlet in terms of space owned by a single individual in the upper midwest. The location is already zoned for commercial purposes and Mr. Addy said he plans to move quickly to set up shop.
The facility will be a mini-mall of sorts with the front of the building housing the retail store and the back being the nerve center of his wholesale business that has picked up steam in the past year. The two operations will sandwich a handful of offices, a barbershop and braiding shop. There will also be retail space for other businesses to rent.
"We will start the retail store in the back and then move to the front shortly after they move out", he said. They, refers to Restwell Mattress, the current tenant which will move out by the end of November.
Mr. Addy says he is indebted to the African community which has continued to support him even as the old store became congested. During a special tour of the new location that he conducted for Mshale, he said he is confident that his customers will follow him. He also expects to draw in new customers from the adjoining suburbs. He draws comfort in the fact that the community is no longer just concentrated in Brooklyn Park and Brooklyn Center but has now spread to as far as Crystal, Robbinsdale and Maple Grove. The store's location next to the Crystal airport and the heavily traveled County Road 81 and the adjoining Bass Lake road is strategic and borders the two Brooklyns and Robbinsdale.
He has also brought in new management from the East Coast and promises a higher level of customer service than before. Part of the customer experience he is most excited about is a new and modern inventory management system that will include checkout scanners. "I am telling you this is going to be a modern facility, no playing around," he said.
Joining Mr. Addy in the excitement is Brenda Wurtinger, Assistant Vice-President at Mainstreet Bank. She said it has been a pleasure working with Mr. Addy in putting together the financing package and said "it's always a pleasure to see business succeed in their dreams."

Bruce Soma, Mainstreet Bank President and CEO, said of his banks relationship with African Food Market "For the past 100 years, we have been supporting our local businesses and communities by promoting growth and opportunity". He said his bank's mission has always been to exceed the expectations of its customers and he sees Mr. Addy's accomplishment in finalizing the deal as testament to that since Mainstreet emphasizes the "creation of value for the financial services we provide", he said.
Martha Sinoe, president of the Organization of Liberians on Minnesota in a telephone conversation with Mshale congratulated Mr. Addy on his new acquisition. She said she was sad to see the store move to Crystal but drew consolation from the fact that it was a distant move and urged her community to continue patronizing the store. She said the store has served as an important community asset especially in the dissemination of information such as the distribution of community notices. "I think his store was probably the first African store in Brooklyn Park, so I am very happy for him", she said.
Pan African Business Alliance (PABA) president, Henry Ongeri, urged other African businesses to emulate Mr. Addy and "also take bold steps like our friend". Mr. Ongeri while congratulating Mr. Addy said the latter is welcome to tap into the chamber's resources as he gets the project up and running. PABA is the premier chamber of commerce for the growing African businesses in Minnesota.

Scholarships
On what customers can expect as grand opening inducements to visit the store, Mr. Addy said they will not be disappointed especially as the holiday season approaches.

Mr. Addy also announced two new scholarships worth $500 each for students in Africa. Details on the scholarship can be obtained from the store management.
The store's new address is 5736 Lakeland Avenue North in Crystal, Minnesota. It is next to the Crystal airport off Bass Lake road and County Road 81.

Born and raised in Kenya's coastal city of Mombasa, Tom is the Founder, Editor-in-Chief and Publisher of Mshale which has been reporting on the news and culture of African immigrants in the United States since 1995. He has a BA in Business from Metro State University and a Public Leadership Credential from Harvard's Kennedy School of Government. He was the original host of Talking Drum, the signature current affairs show on the African Broadcasting Network (ABN-America), which was available nationwide in the United States via the Dish Network satellite service. On the show, he interviewed Nobel laureates such as 2004 Nobel Peace prize winner, Professor Wangari Maathai, the first woman from Africa to win the peace prize and heads of states. Tom has served and chaired various boards including Global Minnesota (formerly Minnesota International Center), the sixth largest World Affairs Council in the United States. He has previously served as the first Black President of the Board of Directors at Books for Africa. He also serves on the boards of New Vision Foundation and the Minnesota Multicultural Media Consortium. He has previously served two terms on the board of the United Nations Association. An avid runner, he retired from running full marathons after turning 50 and now only focuses on training for half marathons.





(No Ratings Yet)


Loading...