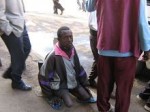 NAIROBI, Kenya—James Mwangi sits on a stone block at the edge of a dusty sidewalk along Moi Avenue, his back facing the street. His legs are stretched and spread in front of him. He doesn't prefer to sit this way, but it is the most comfortable for his brace-supported legs. Mwangi's customer, a light-skinned man dressed in a black suit, also sits on a cardboard placed on blocks that serve as a stool. The man's feet rest on another block between him and Mwangi, giving a complete picture of a makeshift shoeshine booth.
Mwangi, 37, picks up a rag soaked in water in a small plastic container, squeezes it and starts to wipe dust off his customer's black shoes. He then takes another piece of cloth, this time a dry one, and wipes water off the shoes. As he gets ready to start polishing, he remembers he doesn't have a brush. He has to wait for his colleague, another disabled man who doesn't want to be interviewed, to finish polishing a customer's shoes. The two men are sharing the brush and shoe polish today.
"There was a raid yesterday and they confiscated our tools of trade," Mwangi explains. "We could only afford one brush today."
Nairobi City Council police officers carried out the raid. It's part of their efforts to enforce a city ordinance that prohibits hawkers and people like Mwangi who offer petty services. When such operations occur, able-bodies are able to run away to avoid arrest.
But the disabled, most of whom are polio victims with deformed limbs and no wheelchairs, lose their merchandise. The goods in most cases are sweets worth as little as $2. Sometimes police throw disabled people on trucks and take them to City Hall, where they detain them for many ours. For someone like Mwangi, who makes about $0.25 per a shoeshine, this can be very detrimental. It is the only work he does to feed his two children.
For Mwangi, dealing with police harassment is only one of many issues that impede his efforts to make a living. Another one is getting to the city from his home in Githurai, a poor residential area of Nairobi. Mwangi, who has no wheelchair, says he often has to wait for hours as other passengers scramble into buses, too busy to help him board.
Although Parliament enacted a law in 2003 to make the lives of disabled people easier, the government has done little to enforce it. The Persons With Disability Act, which many lauded as the beginning of a change in the way Kenya treats its disabled citizens, has had no impact on the lives of those who need it most.
In Nairobi disabled people continue to crawl in the most unsanitary streets where they have been driven to by City Council police who want them a way from the cleaner commercial parts of the city.
The government has not taken serious the task of enforcing the Act, even when violations are obvious. Section 23 of the Act stipulates that all public transit vehicles must be accessible to persons with disability. But the government continues to license new vehicle that don't comply with the law.
The Outer Ring Road headquarters of Express Connections, Nairobi's second largest public transit company, is also its bus assembly plant. Employees are busy building buses that are clearly in violation of the Act. Mwangi Kagucia, the company's finance manager, says the government never inspects buses to see if companies meet the standards set by law. Kagucia says he had heard about the Act but did not know its details. But he says his company is already flirting with the idea of making some buses accessible.
Kagucia says that because it would be expensive to make all buses easy to board for persons with disability, his company wants to introduce disabled-friendly buses that run on schedule from Nairobi's residential areas. Nairobi buses do not adhere to a time chart. Kagucia says this would allow disabled persons to plan their commute knowing there are buses exclusive to them.
"We want our disabled brothers and sisters to know that there is a bus coming at, say, 10a.m just for them," Kagucia says.
Anyone familiar with Kenyan business practices would call Kagucia's bluff. But the company appears to be the only one that cares about how it treats its customers. At the company's major bus stations, employees in blue shirts and black pants welcome passengers with smiles, a manner unseen in other buses. They do not let disabled or elderly persons load their own luggage.
Kagucia says the government's failure to enforce the law stems from lack of communication between its agencies. The Ministry of Gender, Sports, Culture and Social Services, which is responsible for the welfare of disabled people, does not seem to be communicating with the Ministry of Transport, which issues licenses.
Officials from both ministries did not answer repeated calls and visits to their offices. But according to the National Council for Persons With Disabilities, an independent organization mandated by the Act to ensure its enforcement, progress has been slow because of lack of funds.
"The government has not set aside money to make the Council effective," says Verity Mghoi Mganga, the Council's program officer.
Mganga says that although the Act was passed in 2003, the Council did not take its offices until November 2005. It has had to rely on donors like the United Nations and volunteers to function. Mganga also says in the short time members of the Council have been in office, they have devoted much of the time discussing the Act's flaws.
"Some sections are in conflict with other laws and other are not clear," Mganga says.
Mganga says because the government doesn't have current data on persons with disabilities, it has been hard to reach out to many of them. Statistics from the 1989 census, the latest, show that 0.7 percent of the total Kenyan population (estimated at 21.4 million then) was disabled. That number, however, appears to miss the many who live in remote areas who may be unaccounted for.
As the Council struggles to figure out how to best make the law enforced, Mwangi waits. He has heard of the law that is supposed to make his life easier but he doesn't know when that will happen. For now, all he can do is to continue shining shoes, hoping for a peaceful day and ride home before the rush hour.
Edwin Okong'o is a Mshale Contributing Editor. Formerly he was the newspaper's editor.





(No Ratings Yet)


Loading...