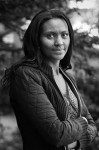 Send your success story and achievements to mshale@mshale.com
Sheqitu Kebede of Minneapolis is among ten Minnesotans that have been awarded the Virginia McKnight Binger Award in Human Service for their long record of service to their communities. The awards given out by the McKnight Foundation to recognize Minnesotans who demonstrate the difference one person can make in helping others. The awards are named for the Foundation's former chair and president, Virginia McKnight Binger. Mrs. Binger served the Foundation for nearly 50 years as a board member, as president from 1974 through 1987, and then as honorary chair until her death in 2002.
Candidates for the awards are nominated confidentially by someone familiar with their work. No one may apply for them directly. Counting this year's recipients, 230 individuals, including eight pairs, have received the awards according to the foundation.

In honoring her with the award, The McKnight said of Shegitu Kebede who is originally from Eithiopia "(She) knows firsthand the challenges faced by single, immigrant mothers. She founded Going Home, Inc., to provide first jobs and job training and support for immigrant mothers and other new immigrants. Shegitu also established the Homework Center to provide after-school activities and homework help to children of working immigrant mothers."
The awards were presented during a private ceremony in Minneapolis on November 16.





(No Ratings Yet)


Loading...