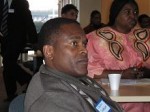 Medical experts and healthcare providers in Minnesota who hail from Africa have teamed up under an umbrella organization named Pan-African Community Organization (PACO) to declare war on the spread of HIV/AIDS among African-born immigrants.
The PACO Chairman, Dr Crispin Semakula speaking at their first workshop organized at the American Red Cross of the Twin Cities in Minneapolis on November 17 said PACO was created to "address the ever-increasing challenges of HIV/AIDS among African-born persons in Minnesota."
PACO intends to pool together the efforts of health experts, agencies (non-profits), service providers, community and religious leaders as well as HIV/AIDS activists from the African immigrants to stop the spread of AIDS in their communities.
"You must remember that new immigrants come from all sorts of educational background and civilization and yet very high expectations have been placed on them by their hosts, and for the most part, it is discriminatory. This is the source of overwhelming stress to their daily living state." Dr Semakula admits that where these immigrants come from in Sub-Sahara Africa, you have the highest concentration of the global AIDS pandemic.
He maintains, "at PACO our mission is to enhance accessibility of social and human services to African immigrants of MN and empower them to live as self-sufficient citizens of our society. This mission is to positively impact the lives of people it serves by providing linguistically and culturally appropriate and applicable services."
The theme of the one-day workshop was "Fighting HIV/AIDS in African born populations in MN: from leadership to communities."
Papers presented included
Nila Gouldin's keynote address as the African American Health Coordinator, Office of Minority and Multicultural Health, MN Department of Health.

Luissa Pessoa-brandao, HIV Surveillance Coordinator, Infectious Disease Epidemiology, Prevention and Control Division, MDH

Dr Laura Hoyt, Children's Hospital and Clinics of Minnesota and the University of Minnesota Medical School

Japhet M. Nyakundi, Program Specialist, Infectious Disease Epidemiology, Prevention and Control Division, MDH

Dr Omobosola O. Akinsete, Division of Infectious Diseases and International Health, Department of Medicine, Hennepin County Medical Center

Neville Ansley, HIV/AIDS Program Coordinator, American Red Cross of the Twin Cities

Dukassa Lemu, Executive Director of PACO

Paulie Salazar, PACO Vice Chair and workshop Facilitator
Workshop participants were told that efforts of the Health Department in Minnesota had reduced HIV/AIDS transmission from mother to child from 20 percent to one percent, and Rapid Testing facilities are available. However, sperm washing facilities have not been set up and STIGMA affecting the human rights of HIV/AIDS patients has proved a formidable task.
Japhet Nyakundi informed workshop participants that yearly $ 270,000 is disbursed by the state to address HIV/AIDS problems to African immigrant communities. A big chunk of this money goes in the work of prevention the spread of the pandemic and services provided to those infected.
Dwelling on the complex problem of STIGMA, he said the problem manifests itself through race, sexuality, class, religion, homophorbia, ethnicity, culture and gender." He said people associate HIV/AIDS with the undesirable, not normal disease, something deviant and "people choose not to talk about it."
He equated the stigma on AIDS to the biblical accounts of people with leprosy who were also segregated by their communities. Relationships break, marriages are on the rocks when one of the partners is infected and people lose friends and make enemies due to HIV/AIDS stigma
He said people had assumed the attitude of passing on the problem of HIV/AIDS to someone else, as it were "refer to refers" not because these people have no skills, but simply because they do not want to deal with such issues.
Since the pandemic has no cure in sight, people fear the unknown, the uncertainties, fear of imminent death and inadequate information. Drug and substance abusers, commercial sex workers, and gay communities are facing segregation as people have not come to terms with the fact that HIV/AIDS is here and affects us all.
Nyakundi was however encouraged by the mushrooming non-profits of people with compassion who provide services and care to the sick and commended such institutions like the ALIVENESS and Open Arms Minnesota for comforting people with AIDS with true love and tenderness.
He said in South Africa, a woman who announced that she was HIV-positive was brutally murdered and that is why the conference of HIV/AIDS that was held in South Africa had as its theme "Breaking the Silence" on the pandemic.
Nyakundi said in America, unlike in some third world countries where services are hard to come by, Minnesota is blessed with a variety of service providers addressing the HIV/AIDS pandemic. People should come out, get tested to determine their status and if found positive, they should embark on an early regimen. This way, they will enhance their chances of living a long life.
Medical and other service providers will continue to observe the law on privacy and confidentiality, he confirmed, but cautioned that once you begin receiving services, obviously some people will know that so and so in HIV-positive. He said if we don't get tested, then unknowingly we shall continue to spread the pandemic that is proving to be devastating to our communities.

Swallehe Msuya was a senior staff writer at Mshale with extensive media experience in his native Tanzania. He was a general assignments writer. Investigative stories that Mshale undertook were normally his responsibility. Swallehe passed away in Sept. 2009 at the age of 61. Mshale will forever miss his tenacity and wisdom.





(No Ratings Yet)


Loading...