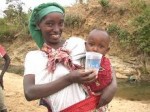 Proctor & Gamble's Innovative Idea Has Saved Lives
Clean drinking water can save lives, and Greg Allgood can testify. Allgood is the director of the Children's Safe Drinking Water, a Proctor & Gamble program dedicated to providing sanitary water in several developing countries, including Kenya.
Perhaps one of the most significant results of the project, Allgood says, is its role in prolonging the lives of people infected with HIV/AIDS. In the Nyanza Province of Kenya, where Proctor & Gamble first launched the program nearly three years ago, the health of people with AIDS has improved, Allgood says. This result, however, was accidental, for Proctor & Gamble scientists did not know that clean water was important in boosting the immunity of those with AIDS, he adds.
"Frankly, despite being very smart scientists, we had really missed out," says Allgood, who holds a Ph.D. in toxicology. "I had not really thought about the connection between HIV/AIDS and safe drinking water. I hadn't really thought that it was such an important connection. The more we looked into it with research, the more we treated it as an incredibly important link."
To illustrate how important that link is, Allgood cites the case of Jemima Odo, a woman in Western Kenya, who was bedridden with AIDS and had no access to clean water. After she started drinking purified water, her health improved to an extent where she gained some of the weight she had lost to the disease.
"I used to have a lot of diarrhea diseases affecting me and my family. But since I started treating our water, there has been a big change," Odo said in a CNN interview.
Odo is now on antiretroviral drugs and heads a community group educating people on prevention of HIV/AIDS and how to live healthy with the disease, Allgood says.
Allgood says the extent of the shortage of safe water is what prompted Proctor & Gamble to embark on the program. Every year, an estimated 1.5 million children die worldwide of diarrhea related to drinking unsafe water. That is approximately 4,000 children a day. Drinking clean water can reduce cases of diarrhea by up to 50 percent, Allgood says.
Proctor & Gamble's almost magical solution to the clean water problem is PUR Purifier of Water, a grayish powder in a sachet the size of a ketchup packet. The company's scientists started developing the water filtration system in 1995 in partnership with the U.S Centers for Disease Control. When added to impure water, the powder kills water-borne pathogens that cause diseases like cholera, dysentery and typhoid. One packet can yield up to 2.5 gallons of safe drinking water, Allgood says.
The process is also simple and affordable. Add the powder to a large container of dirty water, stir for five minutes and filter using a cloth. Allow the water to sit for 20 minutes before drinking. In Kenya the packet is being sold for a subsidized price of seven shillings, equivalent to $0.10.
An affordable solution is likely to be more effective in fighting water-borne diseases, says Rohan Radhakrishna, a student at the University of California's Joint Medical Program at Berkeley and San Francisco.
"People often focus on expensive intervention and high technology to solve the water problem when in fact low cost solutions tend to be more effective," says Radhakrishna.
Radhakrishna, who spent last summer in the Kitgum area of Northern Uganda, as a UC Berkeley Human Rights Center fellow, says humanitarian organizations in the area rely on drilling expensive wells to provide safe drinking water.
Expensive water projects also have another downside, according to Allgood. They are more likely to fail in countries where corruption is rampant.
"Corruption is a reality of having to work (in developing countries), unfortunately," says Allgood. "I can't say that it has had a major impact in our efforts, though. I think it's probably because this is a very low cost product. It's not like we are building a major dam or well with a lot of cash involved in any one transaction."
Proctor & Gamble intends to expand its safe drinking water project in Africa beyond Kenya, Allgood says. To achieve that goal, the program will depend on donations to keep the cost to those in need low. To donate visit the Children's Safe Drinking Water website.
Edwin Okong'o is a Mshale Contributing Editor. Formerly he was the newspaper's editor.





(1 votes, average: 5.00 out of 5)


Loading...