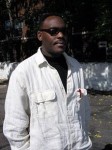 In the East African music circles Fadhili Williams – composer of the world famous song
Malaika
– is a household name. Now, a new Fadhili Nkurlu, a Tanzanian born music artist is a rising star in Minnesota and will release his first ten-song album before the end of this year.
The 37 year-old engineer who works with 3M in the Twin Cities was born in Singida in Central Tanzania and grew up in Dar es Salaam where he attended school at Bunge Primary, Azania Secondary and Tambaza High School before joining the University of Dar es Salaam. He then moved on to the United States for further education and continued to advance his music interest as an accomplished pianist, composer, singer and song-writer.
Fadhili Nkurlu is a holder of grade 7 certificate for piano music from the Associated Board of the London-based Royal school of Music. He also had a stunt in music at the Tanzania Music Conservatory school which enabled him to play the piano at age 15 at the Azania Lutheran Church in Dar es Salaam.
He has performed with Mila Band, Ananse Band, African Music Experience and Marimba Africa in the Twin Cities. Big music names that have shared the same platform with Nkurlu include Samba Mapangala, Lokassa ya Mbongo, Ngouma Lokito, to name a few. He is due to play with Africa's music idol Awilo Longomba when he visits Minnesota before the end of the year.
Movie lovers who saw Josiah Kibira's
Tusamehe
drama on HIV/AIDS will have heard Nkurlu's two sound tracks in the movie –
Mazowea
and
Safari.
His music covers love themes and day to day life experiences of the people. He combines beats of Rumba, Bongo Favor, Zuk , reggae – making his music totally African.
"If you examine a song that I wrote and played named Taratibu, you can easily see me drawing inspiration from Koffie Olomide," he explains. He adds that songs in rumba style like Mazowea are appealing to the old generation, while some Bongo flavor tunes like Kamata Chako are ideal for the young generation.
"Music is in my blood" he asserts, adding "when at work, asleep or taking a walk, music lyrics and melodies flow in my mind and I develop my themes from those instincts."

Nkurlu is married to one Mary Ntukamazina and is a father of two – Gillian (6) and a son Howard (1) . "I believe one of my children will be a musician", he speculates as his family is deeply in love with music.
Nkurlu recently played in Iowa accompanied by two Ugandan stage dancers and has presented a music workshop at the University of Northern Iowa with Kelly Armor – a distinguished story teller and ethnomusicologist. In 2004, he teamed up with Kelly to teach African music through field recording, folktales, and narratives at Chautaugua Institute in New York State.

Nkurlu plans to return to Tanzania later this year to start a music academy where he will teach music, serve as a music producer and commercial jingle artist. "It is my intention to promote the music industry in Tanzania, taking it to a new level." He made these remarks with so much confidence that I can see a new era in African music in Tanzania drawing near as a result of his intervention.
"To me, a musician should serve as a good role model in society, nothing less as music has tremendous influences on the lives of people," he concluded with a thumbs-up signal.
Nkurlu's forthcoming album will go under the label of KLAG Records –promoted by Kwame KP, a Tanzanian company he has enjoyed working with. He also showers a lot of praise to Kenyan producer Bruce Odhiambo and another Kenyan George Ndege of
Kilimanjaro Entertainment
as his great soul-mates in the music industry.
One of Fadhili Nkurlu's hits
Wanigusa
speaks volumes of a rising star in the music industry and you can get the feel of things if you go web-streaming on
www.myspace.com/fadhili.
Nkurlu comes from a family of eleven children and his father used to play the piano and he is the only one in his family who followed in his father's footsteps. He sees his future as that of a music teacher and producer.

Swallehe Msuya was a senior staff writer at Mshale with extensive media experience in his native Tanzania. He was a general assignments writer. Investigative stories that Mshale undertook were normally his responsibility. Swallehe passed away in Sept. 2009 at the age of 61. Mshale will forever miss his tenacity and wisdom.





(No Ratings Yet)


Loading...