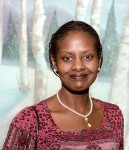 Mshale Obituary and Remembrance:
Anne Hinga-Gitaa
Anne Hinga-Gitaa, a former St. Paul Public Schools teacher and mother of two, died at Abbot Northwestern Hospital in Minneapolis Tuesday, December 5.
"Ever since I have known her, she always wanted to help teenagers and to work in special education," said her husband, Tom Gitaa, who is publisher and editor-in-chief of Mshale, a Pan-African monthly newspaper. "She was also a strong Christian and a voice for justice."
For eleven years, Anne worked for Boys Totem Town, a residential correctional and treatment program in St. Paul. There, she earned a reputation as an influential "tough love" educator who took on the difficult job of working with teenagers who have behavior and delinquency problems. Yet, she found joy and hope in her work.
"It was her only job. She loved it and it loved her," said Pam Hoff, Hinga-Gitaa's friend and colleague at Totem Town. "She was loved by everybody. She was a no-nonsense person, always frank and always letting people know exactly what was on her mind."
Teaching Was In Her Blood
A prominent member of the Kenyan-American community in the Twin Cities, Hinga-Gitaa was born on May 5, 1966 in Nairobi, Kenya (East Africa). She grew up excelling in school and first coming to the United States to study at St. Catherine's University in St. Paul. Eventually, she transferred to the University of Minnesota where she earned both a B.A. in educational psychology in 1991 and then a Master's in Special Education in 1995.
Hinga-Gitaa had a good guide for such a career in her mother, who is a teacher, nurse, and a school administrator. (Her mother wished to be known as Mama Anne, as mothers in East Africa are commonly called by the names of their children.) With her husband, Mama Anne eventually opened a private elementary and middle school, White Cottage School, in the heart of Nairobi.
"Teaching was in her blood," said Mama Anne, adding that Hinga-Gitaa had several other relatives who were also teachers.
Hinga-Gitaa first met Tom Gitaa in the Twin Cities at a Kenya Independence Day party in 1992. The couple married in 1994 at the Pilgrim Baptist Church in St. Paul, the oldest African-American church in the Upper Midwest. (Pilgrim Baptist is the family's home church to this day, and Hinga-Gitaa also served on the teenage outreach ministry team at Speak the Word Church in Golden Valley.) They had two children together: Leila (11) and Orobo (6).
Tom Gitaa spoke at length about how his wife influences him in everything he does.
"She wasn't in the paper, but her influence was always there," said Gitaa. "She was a perfectionist. She always pushed people, me especially, to do their best. She always pushed to improve the paper. She always pushed her students to improve themselves."
Gitaa said that his wife's passion for education has been passed on to their children. Orobo is currently learning at his grandparents' White Cottage School in Kenya, and he is returning with his grandfather for the services.
"The day after her mother died, Leila still insisted on going to school," said Gitaa. "Unfortunately, it happened to be her eleventh birthday. And she even bought cupcakes for the other students. Perhaps it is what her mother would have wanted. We need to continue with life."
A Final Moment
In March 2006, Hinga-Gitaa was diagnosed with lung cancer. She was 39 years old at the time. It came as a shock to relatives and doctors alike as she was in excellent physical shape and maintained a healthy diet. Friends and acquaintances even came to her for advice on staying fit. She did not smoke and was almost never exposed to environments with second hand smoke.
According to the National Lung Cancer Partnership, women who never smoked are much more likely to get lung cancer than men who never smoked. It's a mystery that researchers cannot yet explain.
Tom Gitaa said that his wife's condition became progressively worse in recent months, and that she was hospitalized Sunday, December 3. By Tuesday, doctors said she had little chance of survival. Her husband, Tom, her daughter, Leila, and her mother, Mama Anne, among other loved ones had one last moment to be and to speak with Anne Hinga-Gitaa before she passed that afternoon.
"I am happy she died in my hands," said Mama Anne. "She started in my hands, and she ended there. She died peacefully. Thank God for that. We plan, but God has better plans."
A visitation will be held at 6:00 p.m. on Saturday, December 9 at the First Memorial Funeral Chapel, 7835 Brooklyn Blvd., Brooklyn Park, MN 55445.
A funeral service will be held at 1:00 p.m. on Wednesday, December 13 at Pilgrim Baptist Church, 732 West Central Ave., St. Paul, MN 55104.





(1 votes, average: 5.00 out of 5)


Loading...